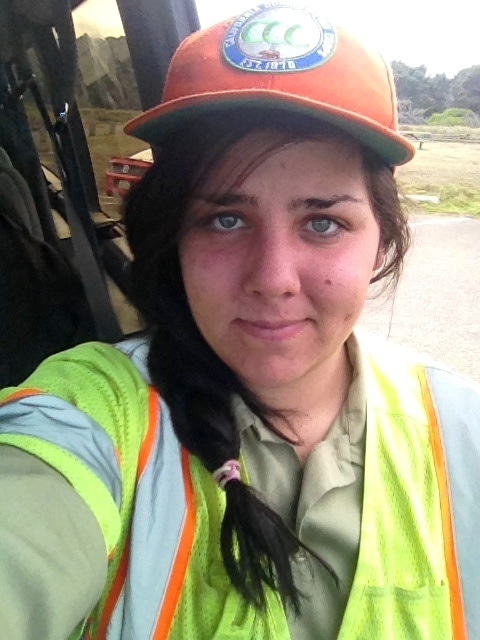 Ruby Simonian
AmeriCorps member – California Conservation Corps
Ukiah, CA
Ruby Simonian is the first of several of her family members to have participated as an AmeriCorps member in the California Conservation Corps. Soon after she joined the Corps in June 2011, Ruby's twin brother Dylan also became a Corpsmember. Most recently, their brother Chris joined the CCC. When asked about his determination, Chris says he has his sister Ruby to look up to.
Before Ruby came to the CCC, she was making sandwiches at a Subway shop and not doing much else with her life. When her mother suggested she research the Corps, Ruby knew she had to give it a try. AmeriCorps and the CCC offered everything she was looking for: job experience, life experience, and independence.
Since enrolling in the Corps, Ruby has earned three promotions. First, she was respected enough by her supervisor that she was recommended for a Firefighter Specialist position, meaning that she was at the top of her class in the U.S. Forest Service Type II Fire Training course. In order to pass this course, Ruby had to complete a timed hike during which she carried 40 lbs. and walked three miles in under 45 minutes. Ruby took her position as one of the only women on the fire crew seriously; she has mentored other young women on how to succeed in the CCC program and how to maintain confidence in a male-dominated field.
After fighting numerous fires throughout the summer of 2011, Ruby moved ahead in her Corps career and earned her Commercial Driver's License. She was then promoted a second time to a Crewleader I position, in which role she acted as her supervisor's go-to person. Ruby learned how to communicate professionally, how to organize a crew of up to 15 people, and how to keep a crew motivated. Ruby was so successful in this position that she was promoted again to Crewleader II. At this point, she is trusted enough that she has taken crews of 3 to 5 Corpsmembers out on projects without direct staff supervision. Ruby's opinions and insight are highly valued, and CCC staff and sponsors frequently seek her advice.
Another testament to Ruby's success as an AmeriCorps member was her selection as a participant in the CCC Australian Exchange. Though many Corpsmembers apply for this opportunity, Ruby was one of only ten people selected for the Exchange program. As a result, Ruby spent a summer doing conversation work in Australia.
"I loved seeing how different people lived halfway around the world, which was a once in a lifetime experience," said Ruby. "Most people don't get that much of an eye opener in their entire life! From this experience I now want to be an ecopsychologist, teaching people about themselves while they learn about the environment."
Ruby is a strong leader in the CCC. She is president of the Corpsmember Advisory Board, frequently represents the CCC at job fairs, and has been instrumental in generating new volunteer opportunities for her peers. Most notably, she was an integral part of the Ukiah CCC's participation in a dog rescue program through which the Corps helped retrain rescued animals and prepare them for adoption.
Ruby has been a diligent volunteer at community fundraisers, accruing over 170 service hours at cancer awareness events. She also spends time working in her hometown as a peer advisor, teaching an anti-bullying class.
For now, Ruby's main goal is to go to college and gain the credentials she needs to become an ecopsychologist. Ruby credits the CCC with helping her realize a passion for protecting the environment and helping other people.
"I believe the Corps has changed who I am and made me a better person," said Ruby. "It has done nothing but help me grow and learn, and it has given me the opportunity to learn who I am and what I am."