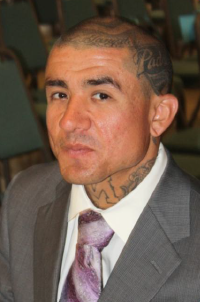 Eliseo Nunez
Urban Corps of San Diego County
San Diego, CA
Eliseo Nunez overcame incredible odds to get where he is today. Growing up, listening to his father tell prison stories, Eliseo thought spending time behind bars was a rite of passage – "what it took to turn a boy into a man." By middle school, he was involved in a gang.
"Everything was about having fun and I never thought of the consequences for my actions," said Eliseo. "When I first joined, I thought it was all about hanging out, getting high and having fun."
Though being part of a gang seemed cool, it didn't take long for Eliseo to learn about the dangers of his new lifestyle. Making mistakes and refusing to take part in gang activities was not tolerated. Desperate to fit in and live up to the image of what he perceived as true manhood, Eliseo adapted to the rules and demands of gang life. He dropped out of high school at the age of 15 and soon developed a drug addiction.
"The first time I picked up meth, I felt like I really did not have a choice. I was a boy trying his best to be a man according to the standards of those around me," said Eliseo. "The meth pipe was handed to me by a family member with smoke pouring out of his mouth like an avalanche. The only thing going through my mind was how I wanted to be just like my father."
Eliseo's actions eventually caught up with him. He spent two years in state prison and four in federal. Though it seemed unlikely he would break out of the grim cycle of poverty, drug abuse and institutionalization, Eliseo resolved to build a better future for himself. After receiving treatment for his chemical dependency issues at an inpatient recovery program, Eliseo was ready for a fresh start. When a probation officer told him about the opportunities at Urban Corps of San Diego County, Eliseo knew he had to apply.
"A high school diploma and work experience was something my soul thirsted for," he said. "All I needed was a chance, and Urban Corps gave that to me."
Though even the most open-minded staff members at Urban Corps originally misjudged him – Eliseo is, after all, covered in the gang tattoos of his past – he quickly became known for his professional demeanor and his natural leadership abilities.
"Here at Urban Corps, [Eliseo] has been a peer mentor for other youth in the program," said Geneva Karwoski, an Urban Corps Case Manager. "He is walking, breathing proof that it is 'cool' to work hard, do your best, and succeed."
Eliseo excelled as a student, sitting in the front of the room and staying after class to ask questions. He was the co-Valedictorian of the March 2013 graduating class and received a $1,000 scholarship. In career development, he also proved to be a hard worker. He gained experience in the Environmental and Recycling Departments, earned his Class C Driver's License, and eventually became a staff supervisor at Urban Corps' Recycling Buyback Center.
These days, Eliseo takes night classes at San Diego City College and runs the Buyback Center by day. His goal is to become an Alcohol and Other Drugs Counselor and work as a Case Manager at Urban Corps. On top of his school and work responsibilities, Eliseo is active in the Alcohol and Other Drugs Recovery Community. He volunteers on a weekly basis, guiding individuals through the recovery process by sharing his story and offering advice. Additionally, Eliseo often represents Urban Corps at events:  when he spoke on behalf of the Corps at the annual Commission on Gang Prevention meeting, his speech brought the Council President to tears. Eliseo tells his listeners, "Urban Corps is the stepping stone I needed to get from drug abuser to drug counselor…I needed a chance to find my purpose, and Urban Corps has given me that and much more."