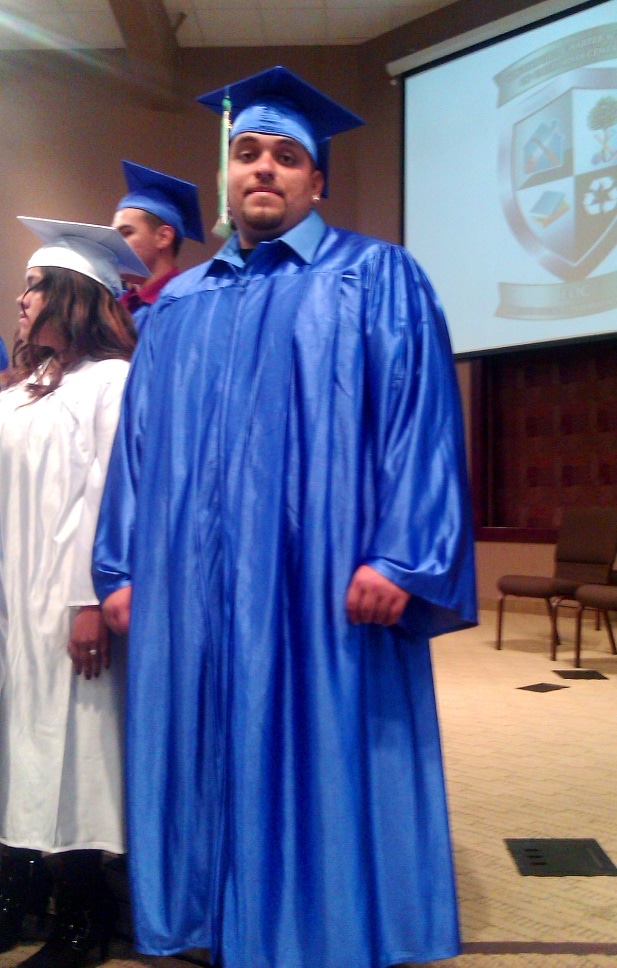 Edgar Galvez
AmeriCorps member – EOC Fresno Local Conservation Corps
Fresno, CA
Edgar Galvez wanted to be an honest man and earn an honest wage. A bad mistake landed Edgar in Federal Prison, but he was awarded the opportunity to participate in an alternate sentencing program. While completing the terms of his sentence at a sober living facility, Edgar first learned about how becoming an AmeriCorps member with the Fresno Local Conservation Corps (LCC) could help him complete his education, earn job skills, and become a productive member of his community.
"Moving forward with my life and wanting to take care of my family, the LCC was the light at the end of the tunnel for me," said Edgar. "The opportunity to have a chance at an honest living made me want to become a Corpsmember."
Edgar joined LCC as a YouthBuild SMART student. He gained skills in construction and landscaping and excelled as a leader on campus, earning multiple perfect attendance certificates and high praise from his teachers. As one instructor noted, Edgar not only worked hard, but "showed his leadership qualities by assisting his classmates with assignments and computer issues."
As a result of his hard work and perseverance, Edgar won LCC's Whatever It Takes College Award two semesters in a row. Also, as an AmeriCorps participant in The Corps Network's Postsecondary Success Education Initiative, he received his high school diploma and enrolled in Fresno City College. Edgar paid for his classes and books with the help of the $5,550 in AmeriCorps Education Award money he earned for his 1,800 hours of service with LCC. He has become well known in Fresno for his countless volunteer hours with his local neighborhood coalition, Bringing Broken Neighborhoods Back to Life (BBNBTL), and the Southwest Subdivision of the Fresno Police Department.
"I learned to serve my community and understand the meaning of giving back," said Edgar. "The feeling of making a positive impact on my community is invaluable."
Edgar quickly gained the respect of his peers and the LCC staff. He was selected to be an LCC Senior Corpsmember and subsequently spent a term mentoring fellow Corpsmembers in the field and in the classroom. He was also elected to be a member of the YouthBuild SMART START Council. Edgar proved his ability as a leader and his dedication to the Council through his work counseling formerly-incarcerated Corpsmembers. His standout performance led to his being chosen to attend YouthBuild USA's Conference of Young Leaders in Washington, DC. To this day, Edgar is an active councilmember and a participant in YouthBuild USA's 1000 Leaders movement and the Alumni Exchange.
Edgar is enrolled in classes at Fresno City College for the spring 2014 semester. He hopes to eventually transfer to Fresno State and earn a bachelor's degree in business. His main goal for now is to work, save money, and buy a home for his family.
These days, Edgar is a member of the Local 294 Laborers Union. Due to the classroom education and field training experience he gained while with LCC, Edgar excelled in Union certification training and currently earns nearly $19.00 an hour. He can now say he is an honest man, supporting his family with an honest income.