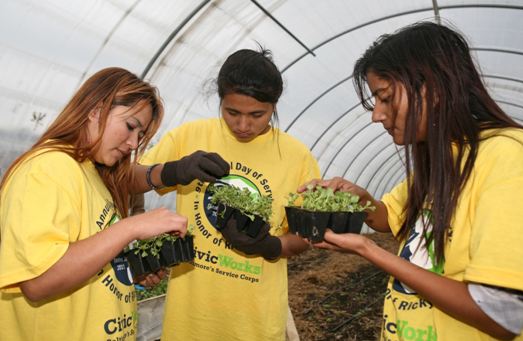 Before Civic Works broke ground on their Real Food Farm in October 2009, Baltimore, MD had no significant urban farms. Because of its history with youth development and community outreach, Civic Works was selected by the Baltimore Urban Agriculture Taskforce as the perfect organization to operate a "demonstration farm." Now, just a few years after they planted their first seeds, the Real Food Farm has inspired the creation of numerous urban farms and reached thousands of Baltimore residents through educational programs and efforts to increase access to fresh food.
Real Food Farm continues to grow, but for now it covers about six acres of land in Baltimore's Clifton Park. The farm is comprised of high-tunnel hoop houses made from steel pipes and plastic sheeting, as well as open fields with trees and rows of vegetables. In 2012, Real Food Farm harvested nearly 15,800 lbs. of food, established 6 beehives, planted 60 fruit trees, installed 2 rain gardens & 1 berry patch, began the process of producing mushrooms, and expanded a composting project.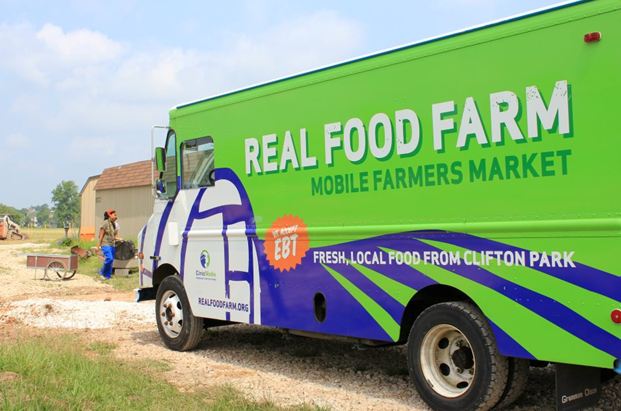 The mission of Real Food Farm is fourfold: make fresh fruits and vegetables more available to low-income Baltimore families; help grow Baltimore's urban agricultural sector; provide experience-based education and leverage the farm as a learning tool; and promote sustainable land use. Civic Works uses various methods to achieve the Farm's first goal of improving food access. The Mobile Farmer's Market, a converted Washington Post delivery truck, makes home deliveries and pre-arranged stops in and around the Clifton Park Neighborhood. The Mobile Market accepts EBT (Electronic Benefit Transfer) payments made with Independence Cards, with additional incentives for those using SNAP (Supplemental Nutrition Assistance Program) funds. Real Food Farm also runs a community-supported agriculture (CSA) program with adjustments that allow low-income families to join.
The main way the farm achieves its second goal of inspiring more urban farm development is by getting the community involved. This past year, 457 volunteers spent 1,292 hours working on various farm projects. Additionally, Real Food Farm held events and training sessions that attracted nearly 600 people. A number of former Corpsmembers have gone on to work at or start urban farms, with one former Real Food Farm AmeriCorps VISTA starting the Farm Alliance of Baltimore; a collective of small urban farms that share tools and hold joint community markets.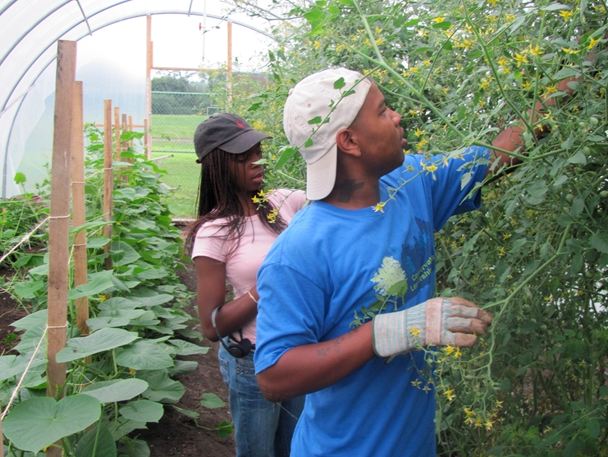 Internships for high school students, demonstrations, field trips for school groups, and after-school programs are ways Real Food Farm achieves its third goal of educating people about sustainable farming and where food comes from. In 2012, 883 students from 13 local schools visited the Farm during field trips and 43 students regularly attended educational programming. Through the Farm Lab program, the farm has developed curricula for math classes, to art classes, to English classes. Kids in grades K-12 have all enjoyed field trips at the farm.
Real Food Farm's fourth goal is realized through the farm's use of sustainable practices. The farm is built on what were once underutilized sports fields next to two schools. They use rain gardens and are constructing a bioswale to reduce runoff and improve groundwater quality. The property now has a large composting project underway, and the farm recently acquired an industrial-sized freezer for preserving food.
Before 2009, Civic Works – and Baltimore itself – had little experience with urban agriculture. Corpsmembers and staff attended workshops, conferences, and training sessions to learn how to make the farm successful. Now, through plenty of hard work from Corpsmembers, Civic Works staff, and Baltimore volunteers, Real Food Farm is giving back to the community in big ways.