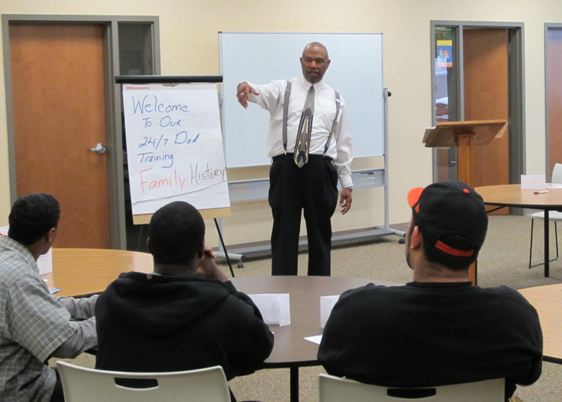 About two years ago, the 70 people attending a Fresno Local Conservation Corps (LCC) orientation session were asked to rate how involved their fathers had been in their lives. They could choose to rank their dads as either "heroes or zeroes." Sadly, over 80 percent of participants said their fathers were zeroes because they simply hadn't been present. According to countyhealthrankings.org, there are over 99,000 single parent households in Fresno, most of which are headed by mothers. LCC consistently serves a large number of gang-affiliated youth whose fathers have never been present. Because many young Corpsmembers are fathers themselves, and because LCC's mission as a Service Corps is to assist youth in finding personal stability, LCC saw it as their duty to help stop this cycle of absent fathers. The Proving Our Parenting Skills (POPS) program was born.
In September 2011, LCC and its umbrella organization, Fresno Economic Opportunities Commission (EOC), received a $2.5 million federal Responsible Fatherhood grant. The first year of the three year grant ended in September 2012. Over the course of the POPS program, the Corps hopes to serve 1,400 fathers (age 30 and under) from the City of Fresno. LCC created partnerships with over ten local organizations to help recruit POPS participants and assist in program facilitation. These partners include the Fresno Housing Authority, the Fresno County Department of Child Support Services, childhood development organizations, veteran organizations, a domestic violence prevention center, numerous churches, and various nonprofits that respectively serve unemployed youth, homeless youth, and gang-involved youth.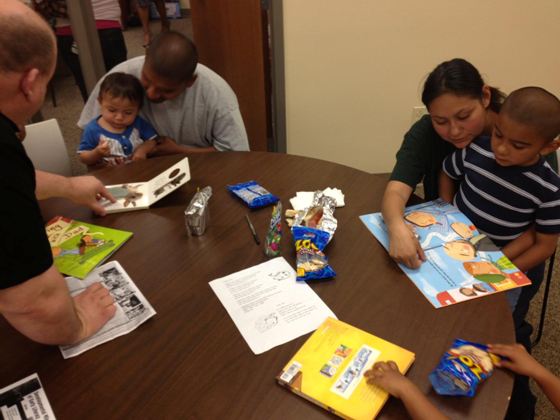 The grant provides funding for 20 young fathers to take part in POPS while simultaneously learning vocational skills and earning their high school diplomas through the standard LCC program. POPS participants complete the 24/7 DAD comprehensive fatherhood curriculum, CHOICES anger management classes, and Love Notes relationship-building classes with their child's mother. The fathers can also take advantage of POPS family activities, such as "Daddy Days," that provide opportunities for children and fathers to interact through Zumba classes, First Book Reading Nights, cooking classes, and other family-friendly activities.
In addition to the core twenty fathers in the POPS program, over 35 other Corpsmembers (male and female) as well as numerous veterans have access to POPS services. This includes anger management classes, family story-time, free diapers and wipes, children's clothing, and picture books. Young men who complete the core aspects of the POPS program can build their leadership skills as POPS Ambassadors. These father Ambassadors mentor fellow dads and participate in a variety of activities that bring together fathers from the community to discuss their shared issues. Ambassadors also have the opportunity to receive advocacy training.
Those who participate in POPS come away with increased confidence in their parenting and relationship skills, a greater understanding of their roles and responsibilities, and enhanced communications skills. POPS fathers have the mindset needed to emotionally stabilize their families, as well as the vocational skills to begin providing for their families. These young men are given the tools and training to become heroes for their children, or in the case of veterans, become reintegrated into the family structure. The program is an asset to the community and hopes to grow through a developing relationship with the Men and Boys of Color Movement.