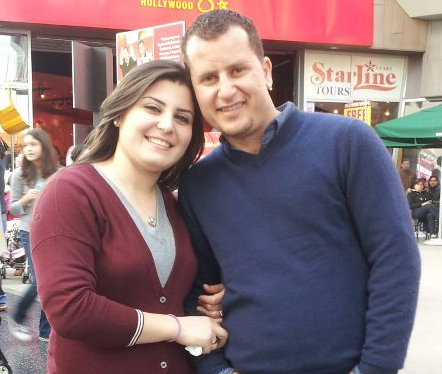 Raghda and her fiance
Raghda Raphael's story is one of triumph over tragedy. She was born in Baghdad, Iraq in 1988 and immigrated to the United States in 2010. Though Raghda came to America as a refugee, her life in Iraq was once filled with happiness. As a child, she had many friends and lived comfortably with her family in her grandfather's big house. She was fortunate to attend good schools and received excellent grades. Sadly, life for Raghda and her family changed once the initial hopefulness following the overthrow of Saddam Hussein faded and insurgents took power of Baghdad. Raghda was soon surrounded by the threat of car bombs, roadside bombs, and assassinations.
"All of the Iraqi people were feeling horror," said Raghda. "We felt unsafe, fear, uncertainty, and confusion because of the unexpected events we were facing in our lives."
In 2008, Raghda's uncle, a 35-year-old father of six, was kidnapped by armed men and held prisoner. His captors contacted Raghda's cell phone numerous times and demanded ransom money. Her family was ready to pay, but after a few days the insurgents decided they no longer wanted money – they wanted Raghda.
"I hung up the telephone and never spoke to the captors again.  I chose to live and for that my uncle probably died," said Raghda. "To this day, we have had no contact with our uncle.  We do not know what happened to him.  All of us in the family feel very sad."

Raghda was so shocked and saddened by this incident that she could not concentrate on school and failed the high school exit exam. A year later, when she attempted the exam again, she passed and was accepted to the University of Baghdad. She studied hard in school and she and her friends tried to lead normal lives, but every day was full of uncertainty. One day, Raghda and her peers were in a car that was attacked by insurgents. Bullets broke the back window of the car and blew out the tires. Iraq was not safe. Raghda and her family moved to Beirut, Lebanon in 2009.
"As happy as my family was to take this step, it was also the hardest decision we ever made in our lives because we were leaving our own country, home and friends, knowing it would be the toughest challenge to date," said Raghda. "…The good thing was we knew we would not be [in Lebanon] for a long time; it was a waiting station for us."
In October 2010, the family boarded a plane for America. Raghda was relieved to find safety in their new home of San Diego, but she felt isolated by her limited understanding of English. Things changed, however, when she followed in her brother's footsteps and joined Urban Corps of San Diego (UCSD).
Raghda's teachers at Urban Corps recognized her intelligence and encouraged her to practice her English. About a year-and-a-half after joining the Corps, Raghda passed the California High School Exit Exam and received an American high school diploma in November 2012. Through the help of her teachers, Raghda's English has become so strong that she now acts as a translator and tutor for Arabic-speaking Corpsmembers, and she has spoken about the Corps experience at various events as a UCSD Ambassador.
"Raghda exemplifies the Corps ideals of service, perseverance and determination," said Geneva Karwoski, one of Raghda's supervisor's at UCSD. "…Raghda is motivated to succeed in every aspect of her life. As a student, worker, and peer she has fostered a sense of community among Urban Corps' diverse group of Corpsmembers. She is fearless about befriending people from cultures outside her own, and has inspired many of her peers to follow suit. Her strong sense of character and commitment to the guiding principles of the Corps has made her an unparalleled leader and mentor for other Corpsmembers."
While attending classes and working towards her diploma at Urban Corps, Raghda also worked with the Corps' Fire Fuel Reduction Program and the UCSD Recycling Buyback Center. Raghda says that the experience of building trails, thinning forests, and sorting recyclables has helped her build a strong appreciation of the natural world. As a cashier in the Buyback Center, she feels proud to be able to play a part in helping divert recyclables from the landfill. Raghda has inspired the rest of her family members to become more conscious about their recycling habits.
In addition to her work at Urban Corps, Raghda helps support her family by working as a restaurant manager in the evenings. She also recently enrolled in college and has been busy planning her wedding. Her dream is to eventually earn her master's degree and become a math teacher for underprivileged youth. Math has always been Raghda's passion:
"My teacher in Iraq used to tell me, 'You are smart in math; you should be a math teacher!' Then when I came to Urban Corps, my teacher there told me the same thing!" said Raghda. "I really enjoyed the time I spent working with other students as a tutor and mentor, and it is my dream to encourage that interest in other young women too.  I have recently learned that many young people are not meeting the appropriate math proficiency levels and that such deficiencies will have a great effect on their future career opportunities.  I hope to one day be a part of the solution to this problem and make math a fun and enjoyable experience for those that struggle with it."
Coming to America was a turbulent experience for Raghda. It was difficult for her to adjust and immerse herself in a new culture, but, as she explains, the welcoming environment and supportive staff at Urban Corps helped her feel like she had finally found a safe, comfortable home.
"Urban Corps helped me realize my potential and gave me the tools I needed to succeed in a new country.  Without the Corps I would not be where I am today. I am grateful for the opportunity, and for all the people that have made a difference in my life. I look forward to the day when I can do the same for another young person."