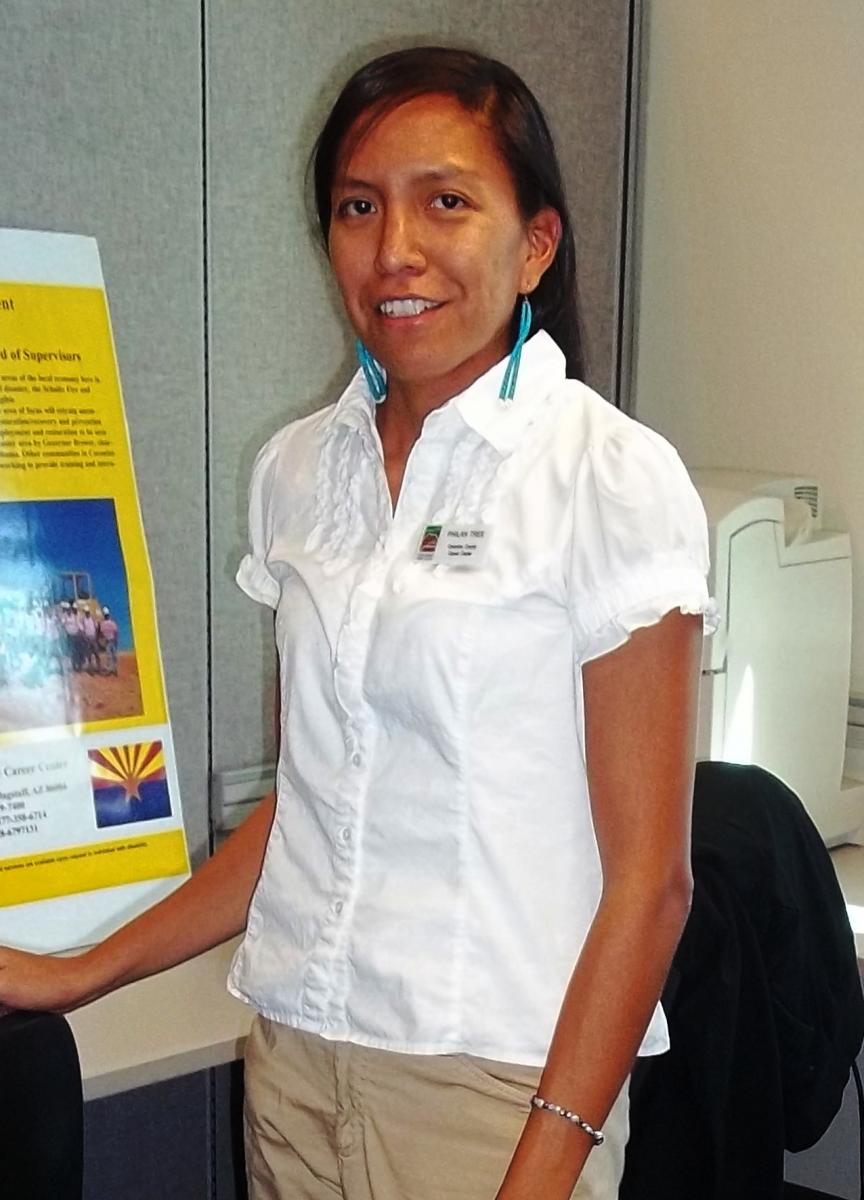 ***Update! Click here to find out what Philan has been up to since accepting her award.***
During her terms as an AmeriCorps member with the Coconino Rural Environment Corps (CREC), Philan Tree has accomplished many notable achievements. Philan was instrumental in setting up CREC's collaborations with several chapters within the Navajo Nation.
Her direct work with these chapter houses resulted in two Memorandums of Understanding between Coconino County and the Leupp Chapter and the Tonalea Chapter. Because of these MOU's and Philan's diligent work with these chapters, CREC was able to employ 17 Navajo Nation AmeriCorps members to work directly with their chapters providing energy efficiency measures to the most needed homes in those underserved communities. Philan also procured a Resolution of Support from the Western Agency of the Navajo Nation allowing for CREC's Energy Conservation Corps (ECC) to provide home weatherization to many families with great need in Navajo Nation lands of Coconino County.
Philan provided leadership for the first fully Navajo crews that were hired and employed by CREC within the Navajo Nation. Her skills in speaking and writing in Navajo provided access to County services that would have otherwise not been available to some of the elderly Navajo peoples. Led by Philan, these AmeriCorps members spent hours painstakingly translating and developing phrases to explain weatherization techniques and processes in Navajo so the elder residents in the community could understand the benefits and work that these hardworking crews were accomplishing. Philan also spent much of her own time assisting these residents in filling out their applications in order for them to sign up for the weatherization program.
During this timeframe 204 homes were retrofitted within these chapters of the Navajo Nation and Philan's AmeriCorps members all finished their terms with an additional 45 hours of service to these communities. Simply put, these accomplishments would not have been possible without Philan's determination, networking savvy, and clear goals for herself and the program.
Philan continues to be a positive influence on her peers and the community. She remains in contact with many of her former crew members encouraging them to continue to make positive changes in their own lives by participating within their local community. She encourages them to be proud of their heritage by respecting traditional ways and teaching others the importance of the Navajo language and encourages her peers and co-workers to speak their native language and to be proud that they are able to speak it. Also during her time as a CREC ECC AmeriCorps member, Philan spent her spare time coordinating volunteers as the chair for the Native American Parent Advocacy Committee. She generated an average of 10 additional volunteers from the Native American Community who help Native American youth to remain in school and to further their education by attending college.
Philan continues to take classes on a part-time basis to complete her Bachelor's degree at Northern Arizona University and is currently set to graduate in December 2011 with a dual degree in psychology and applied indigenous studies. Philan is also currently working full time at the Coconino County Career Center helping among other tasks to find work for displaced construction workers. She has also been taking care of her father who has been with cancer for the past 6 years.
Despite these challenges and heavy workload, Philan is known for her selflessness, dedication, and can-do attitude. Upon completing her degrees, Philan says that she would like to "create a sustainable program to aide with the housing issues in the Navajo Nation. Currently there are no housing codes on my reservation and I would like to change that for the better."
Philan also says that from her time with the Corps, "one of my most memorable moments was when the crew and I just finished working on the home of an elderly couple and one of the younger guys told me he wished he would win the lottery and just spend his earnings working on peoples' homes."