Sadly, Ladine "JR" Daniels passed away in his sleep in early November 2014. JR was a loved and respected member of the Corps community. He will be greatly missed. Click to read our tribute to JR. 
---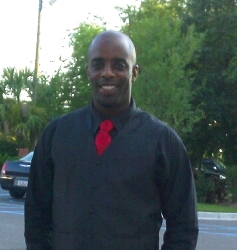 Content below originally published in 2012
After being convicted of a felony earlier in his life, Ladine "JR" Daniels says that "I was having hard time finding something to do with my life, and having been to prison, I was only working jobs that were not going very far."
Once he joined The Sustainability Institute's Energy Conservation Corps, Ladine gained valuable job skills, secured employment, and made headway toward his goal of starting his own business. While in the Energy Conservation Corps, JR served as a leading corpsmember in the weatherization crew. He inspired others when it came to completing the most difficult tasks and often reached out to younger corpsmembers, offering guidance and friendship.
His growth and desire to learn have been two of JR's keys to success. He eagerly set out to learn as much as possible with job estimating, planning, and small business creation. JR often volunteers with his local NAACP branch doing outreach and mentoring as part of his choice to take care of himself and his family by learning a valuable trade and offering service back to the community.
In addition to his desire to learn and his strong leadership capacities, JR's skillset became highly developed while in the Corps. He gained a high degree of proficiency with energy performance testing equipment, instructing others and assisting professional energy auditors through The Sustainability Institute operated Charleston WISE and Charleston WISE Impact Programs. With his newly gained abilities and maturity, JR was courted by potential employers well before his service term ended – though he chose to stay with the Corps and finish his service hours in order to receive an educational award.
JR was ultimately hired by Carolina Green Energy Systems (a local and well-established full-service energy retrofit company) with whom he has established himself as one of their leading weatherization technicians. Although he was competing against other potential hires without criminal histories, JR was chosen by his current employer due to his service, success and development with the Corps.
Even with this success, JR has even bigger goals for the future. He says that "I plan to begin my own company doing weatherization services for low-income families that are sponsored by church congregations here in Charleston. I'm hoping that as my business grows I can hire ECC members as they graduate and give them the same opportunity that Carolina Green Energy gave to me."