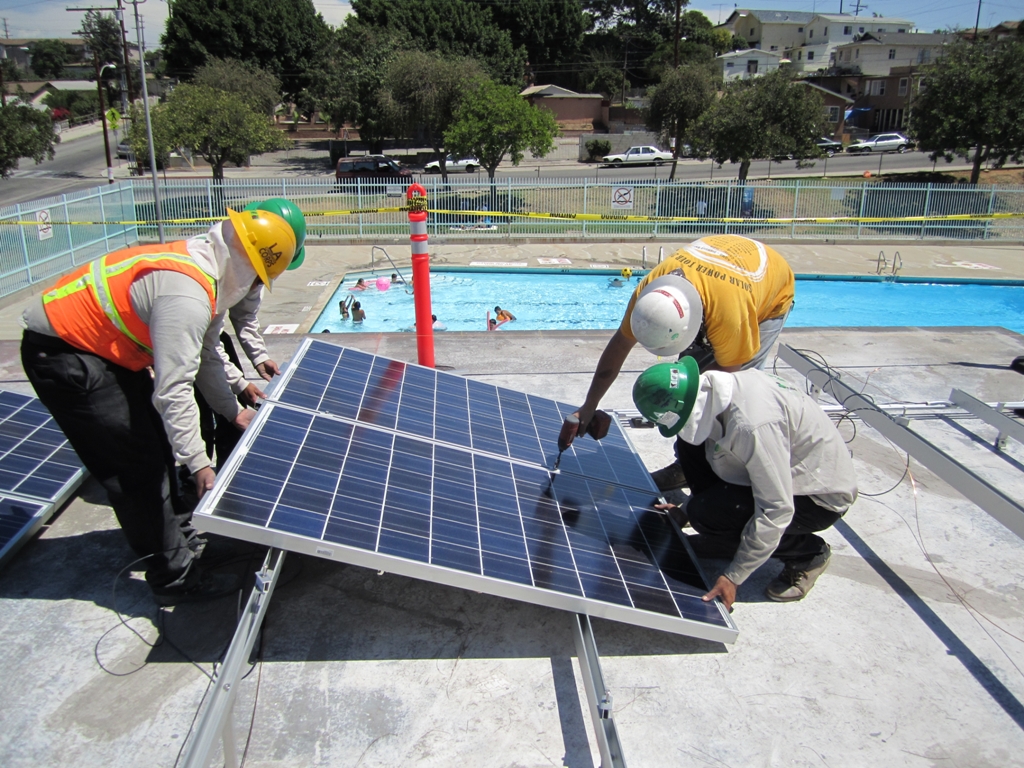 Winner: Los Angeles Conservation Corps
In 2010, Los Angeles Conservation Corps (LACC) greatly increased its capacity to assist and implement solar installation projects. In a four way partnership with theL.A. County Department of Parks and Recreation, Permacity Solar, and Los Angeles Trade Tech College, a 50 killowatt commercial solar installation project was completed at Obregon Park. It was the first project of its kind in the county, and has proven so successful that more projects seem likely.
Obregon Park , located in the impacted community of East Los Angeles, is the cornerstone for recreation and residents in the area. By saving on electrical costs, a depleted parks department will be able to use excess money to provide more recreation programming to the residents in the area.
At the beginning and end of the program, community members were contacted by LACC Corpsmembers who went door-to-door to explain the value of the project. In addition to helping educate members of their community about the value of solar power, LACC Corpsmembers were able to shadow a Permacity Solar crew on the project. They participated from start to finish with planning and installation, working alongside the company's technicians. They also received training in solar installation and theory from Los Angeles Trade Tech College.
Permacity Solar technicians and managers were impressed by the character, confidence, and commitment of the Corpsmembers toward the project. In fact, two of the Corpsmembers who worked on the project were subsequently hired in permanent positions by the company. As a direct result of this project, the County of Los Angeles has decided to pursue funding to install 10 similar systems in other county parks. These systems could result in as much as $2 million of projects directed toward LACC Corpsmembers.
In addition to the success of this project, LACC has benefited by building their own capacity to complete solar installations beyond residential homes. The Corps now has the ability to complete commercial applications. Currently the Corps is installing a 410 kilowatt commercial system at CBS Studios.