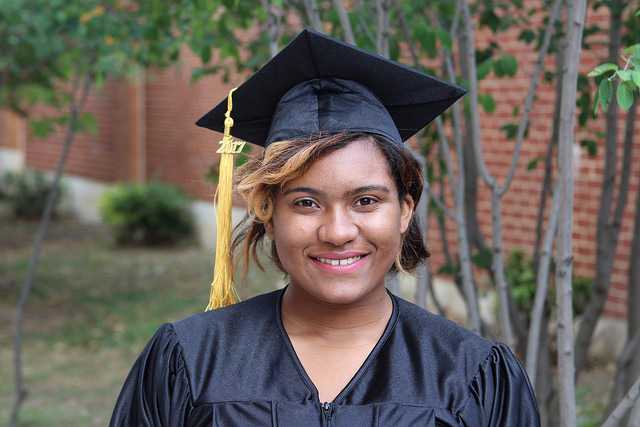 Before finding her place at Montgomery County Conservation Corps (MCCC), twenty-one-year-old Breonnie King bounced between jobs in the food industry, retail, and health and wellness. As Bre describes it, she was "all over the place." Without any prior experience in the environmental world, MCCC would have a huge impact on her.
Through MCCC's GED program, Bre had a new outlook on life. In this program, youth and young adults can earn their GED while exploring green careers and learning conservation-related job skills. What attracted Bre the most to working in the environment was the idea she could create change and have a positive impact. As a participant in MCCC, Bre's main goal was to earn her GED; she never expected to fall in love with the outdoors. As a child, Bre did not enjoy nature.
"Playing in the dirt and with bugs wasn't my thing," she said.
Because of her work, Bre views herself as an advocate for the outdoors and states her work (invasive species removal) at Dumbarton Oaks has opened her eyes to the impact a couple people can make overtime. However, as an African American woman, Bre has also experienced the role privilege can play in the outdoors.
"When I was younger, a lot of people kind of set out what I should be doing. 'You can sing and you can dance and you can play sports,'" said Bre. "That's where a lot of people put African Americans: in a box of what we care about and what is important to us. If it's not in the music, or entertainment, or sports industry, we don't have visibility."
When Bre realized, the conservation field lacked people of color, it resonated with her. She is happy and proud to provide visibility for not only women, but African Americans. She recounts, "I love seeing the looks on people's face when I'm on the job, it's rewarding and empowering to see women who are certified in the field."
Overtime, Bre's love for the outdoors grew more and more; she enlisted family and friends to get outdoors more. As a Crew leader with MCCC she has enjoyed the opportunity to inspire young adults around her. Prior to her service, she never knew she could join environmental or conservation organizations, but she now has the confidence to put herself out there and pursue a career in this field. She believes MCCC has given her the know-how to tackle challenges effectively and efficiently.
"I can work in an industry where leaps and bounds can be made."
During her time at the Corps, Bre enjoyed doing and seeing something new each day. From working on solar panels, to working with invasive plant removal, Bre woke up each day not knowing what would transpire.
Bre also received many certifications that she uses daily. She explains, "A biker was hit by a car right in front of me. Because of MCCC, I had the certification to know what to do in that situation. I could potentially save someone's life."
Currently, Bre has applications pending with the Student Conservation Association, programs listed on the Service Year Exchange, and AmeriCorps. There are so many things she wants to do. She states, "I just want to serve."
With so many things on her plate, Bre also wants to attend to school to study International Relations. When asked about her dream job she states, "I don't even know if there is a title for it. I love speaking, getting people involved, and doing a lot of outreach to people about green jobs and letting them know these things are out here. I don't have a specific dream job. I like to do so much. I'm kind of a jack of all trades. That's the beauty of this industry, you don't have to stick to one field."
She advises young people who are interested in this work to, "stick with it, don't be afraid to try something new."
https://corpsnetwork.org/wp-content/uploads/2022/05/breking.jpeg
427
640
actualize
https://corpsnetwork.org/wp-content/uploads/2022/05/Logo-1030x421-1.png
actualize
2017-08-17 22:27:17
2022-10-03 11:03:54
Corpsmember Profile: Breonnie King – Montgomery County Conservation Corps