For the month of October, The Corps Network is highlighting Corps across the country that help expand access to food in their communities.
Over 2 million people in Los Angeles County face food insecurity. The number of individuals requiring food assistance has only increased during the COVID-19 pandemic. With a mission to serve the community and the environment, Los Angeles Conservation Corps (LACC) found a way to help feed neighbors in need while also diverting waste from the landfill.
According to the U.S. Department of Agriculture, roughly 30 – 40 percent of the United States' food supply is thrown away. With a grant from CalRecycle, plus additional support from SoCalGas, LACC launched an initiative in 2018 to engage Corpsmembers in recovering food that would otherwise go to waste.
In partnership with the nonprofit organization MEND (Meet Each Need with Dignity), LACC Corpsmembers drive refrigerated box trucks to area schools, grocery stores, restaurants, and other businesses to collect unused food. Everything they collect is brought to the MEND foodbank, where it is checked for quality, sorted, and distributed several times a week to individuals and families.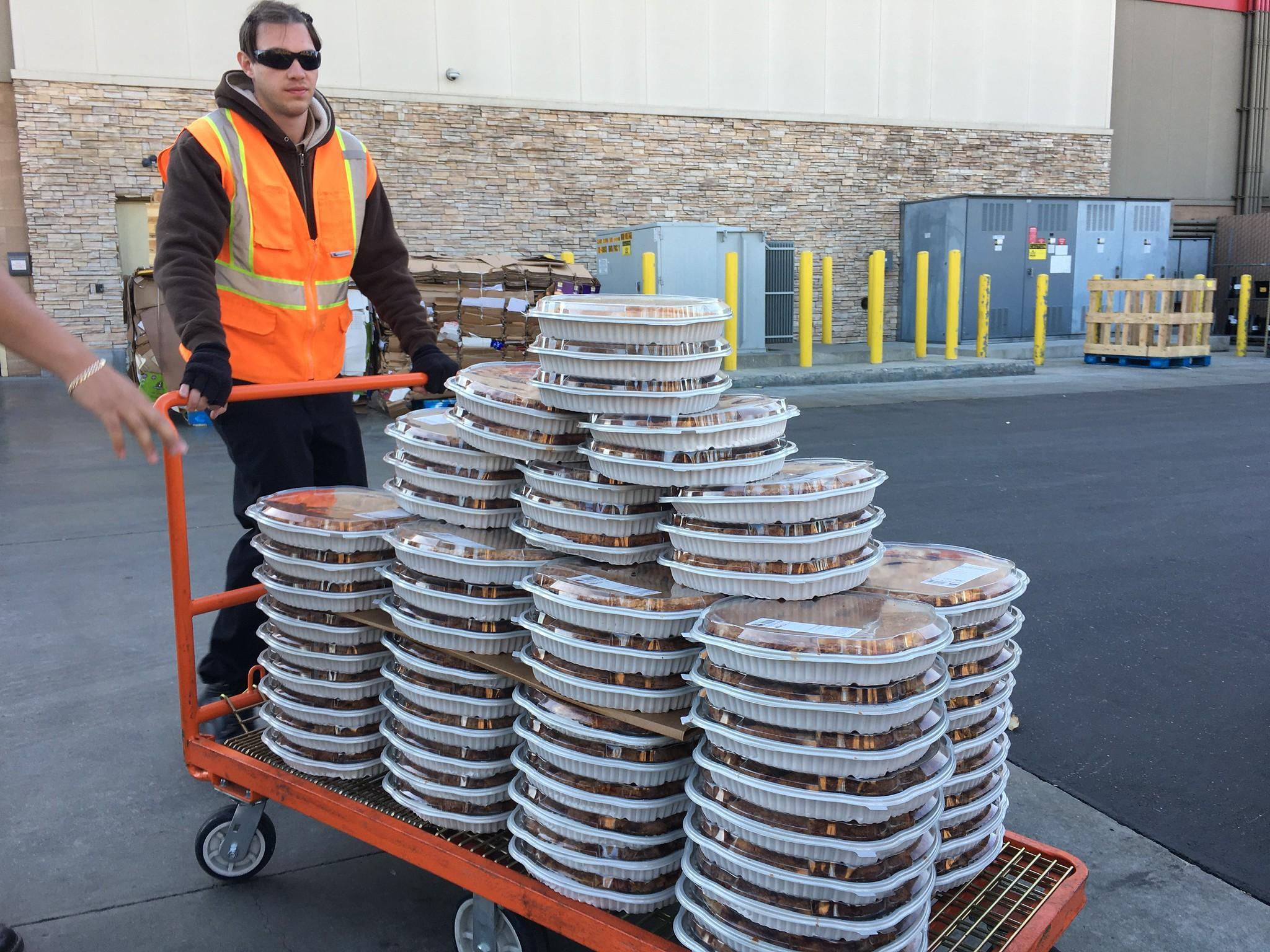 "I think this has been such a successful project because not only are we helping each other in the community, but the participants are able to see the huge difference they are making. It's a win-win across the board," said Karla Ramos, a site director for LACC who oversees the food waste prevention program.
While LACC participates in many initiatives that might seem more obviously connected to environmental conservation – such as planting trees and restoring habitats – the Corps' partnership with MEND fits well into their project scope.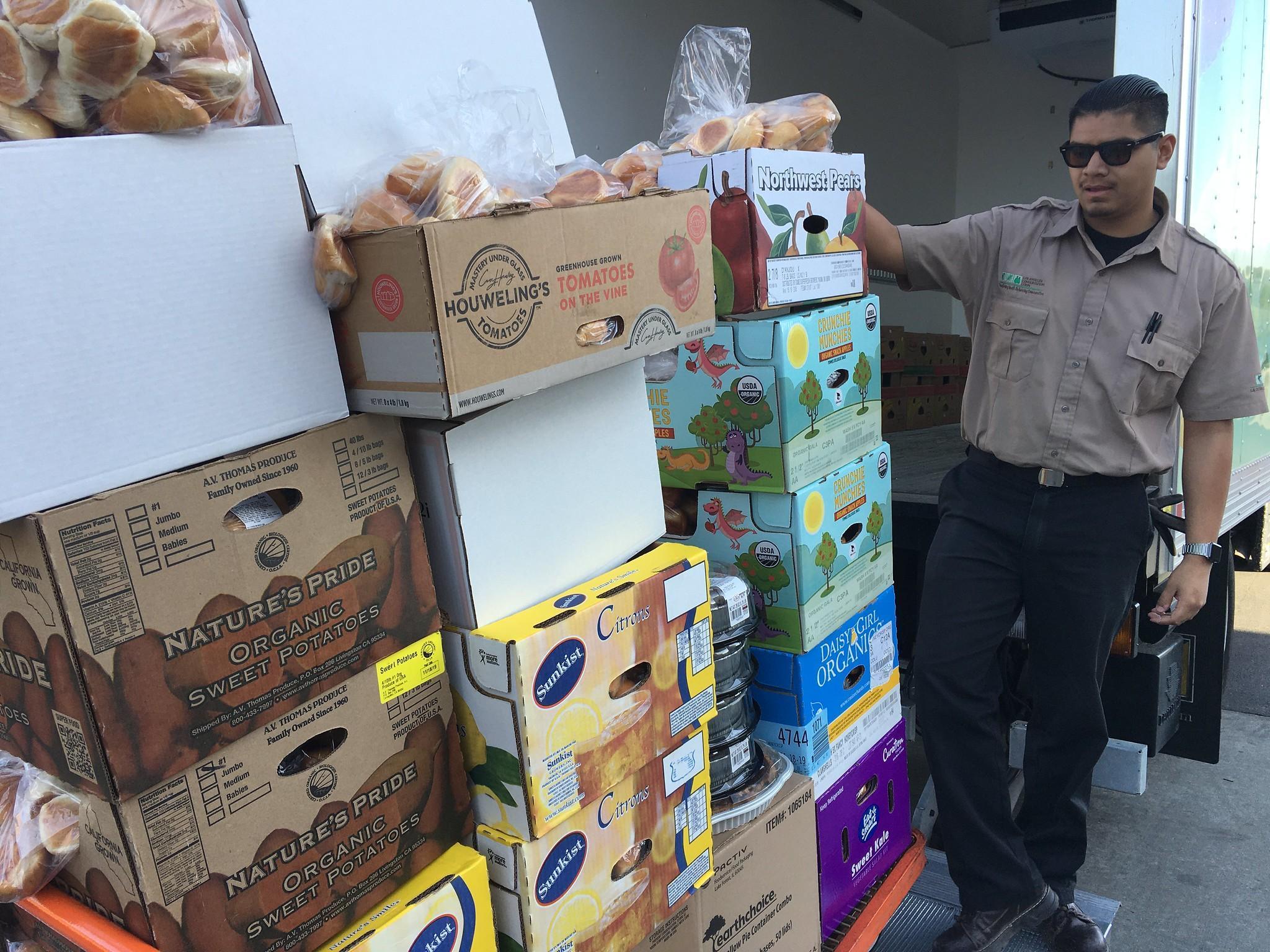 From a conservation perspective, it's important to recognize that food waste is responsible for roughly 8 percent of global greenhouse gas emissions. Recovering food means not only preventing waste from decaying in the landfill, but ensuring that the land, water, and fuel resources that went into producing that food is also not wasted.
The MEND partnership promotes LACC's workforce development and community-minded goals, as well.
"I personally think this fits really well into the mission we do. It's not only providing an opportunity for our youth to learn new job skills and earn a paycheck while they're doing that, but it's providing assistance that the community [needs]," said Karla. "And, yes, this is a conservation project because we're also diverting food from the landfill…[this work] is relevant because I think it targets a lot of issues we're all trying to solve, [including] climate change. If there was less food being wasted, there would be less methane gas being released in the landfills and so on. But it's also relevant because it plays a big role in our community [and] in our participants by showing them you don't have to start big: you can start small to make that big impact."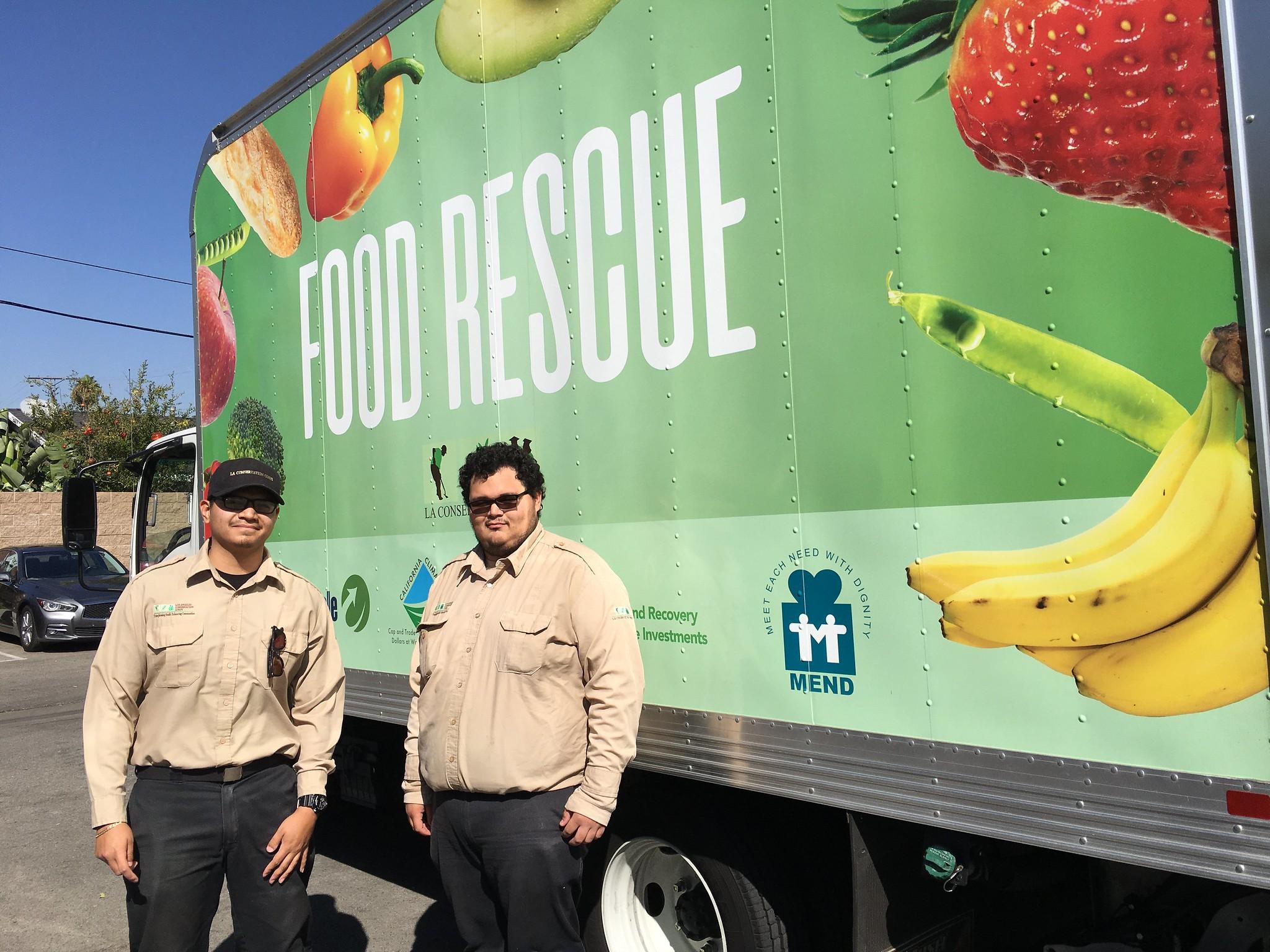 Since August of 2018, LACC Corpsmembers have worked with MEND to collect well over 1 million pounds of food, serving over 41,000 families. On a given day, they might collect over 10,000 pounds of food from a single location.
While the Corps made adjustments to the program to promote social distancing and other COVID-19 safety practices, the initiative has continued during the pandemic. Many Corpsmembers who have participated in this initiative live in Pacoima, the Los Angeles neighborhood where MEND is based; it has been particularly rewarding to support people in their own community.
"The food recycling project is what really brings a smile to my day," said Dulce Rosales, an LACC Corpsmember driver participating in the work with MEND. "I see all the people lined up down blocks just to receive food and just knowing that I did the food donation pick-ups for them to have something – you know, it's a really great feeling."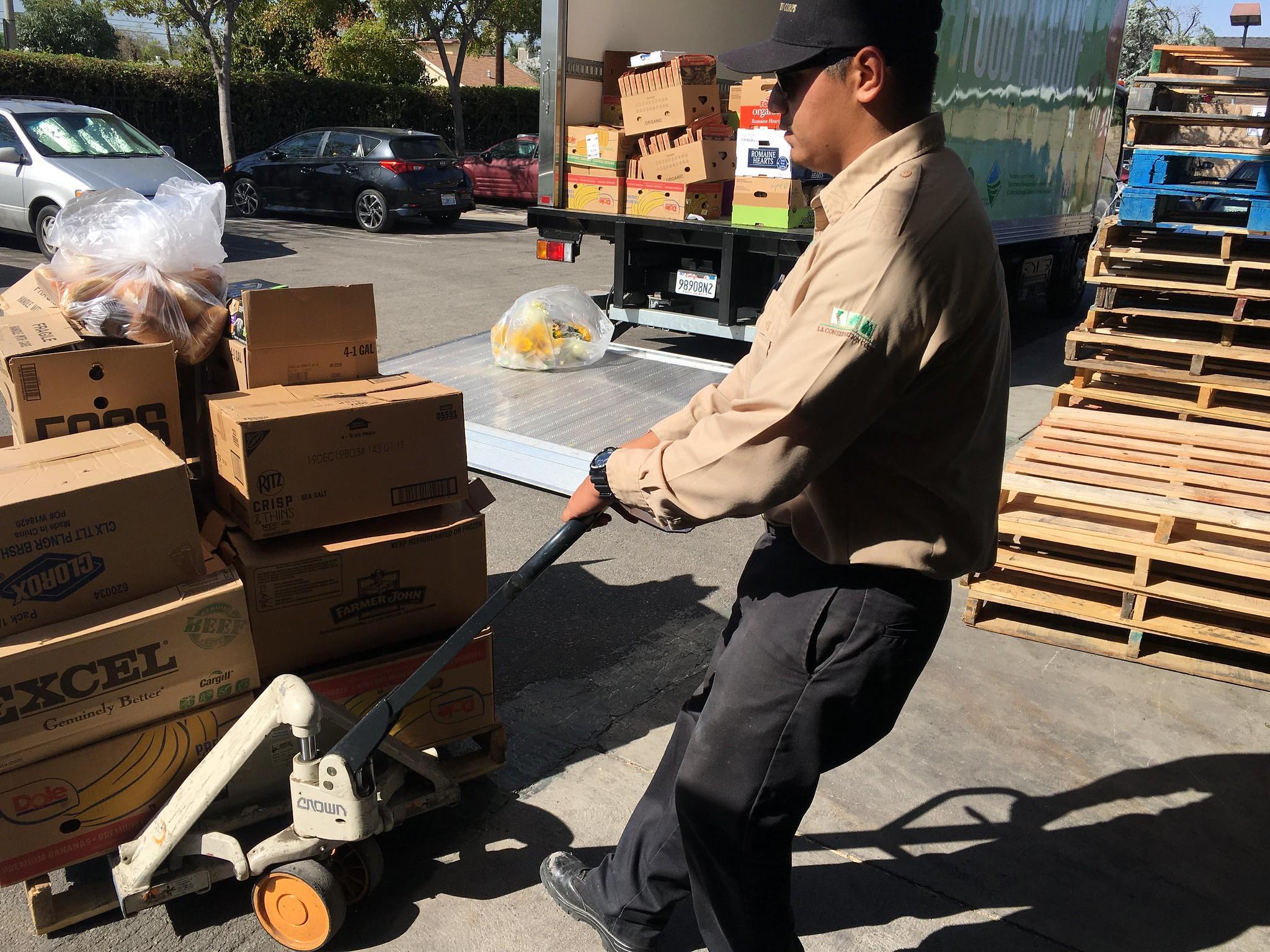 In addition to helping address hunger and food waste, LACC ensures that this initiative provides a learning experience for Corpsmembers. Participants, like Dulce, gain much more than the satisfaction of assisting fellow Angelenos.
"Some of the soft skills include general communications. We instill in them that is a very big project…it has a lot of meaning behind it because we are helping a lot of individuals. We let them know that they're highly relied upon; if they are not able to make it in, they need to be able to communicate that," said Karla. "[In addition to communication skills], it's being able to drive and handle equipment. Not just our liftgates, but also forklifts or pallet jacks so they can carry the large loads properly without getting hurt. I should mention they are also getting trained in safe handling of food."
During her time with the Corps, Dulce received her OSHA-10 certification, participated in first aid and CPR training, and earned her driver's license. She is now enrolled in a phlebotomy program in addition to her service at the Corps.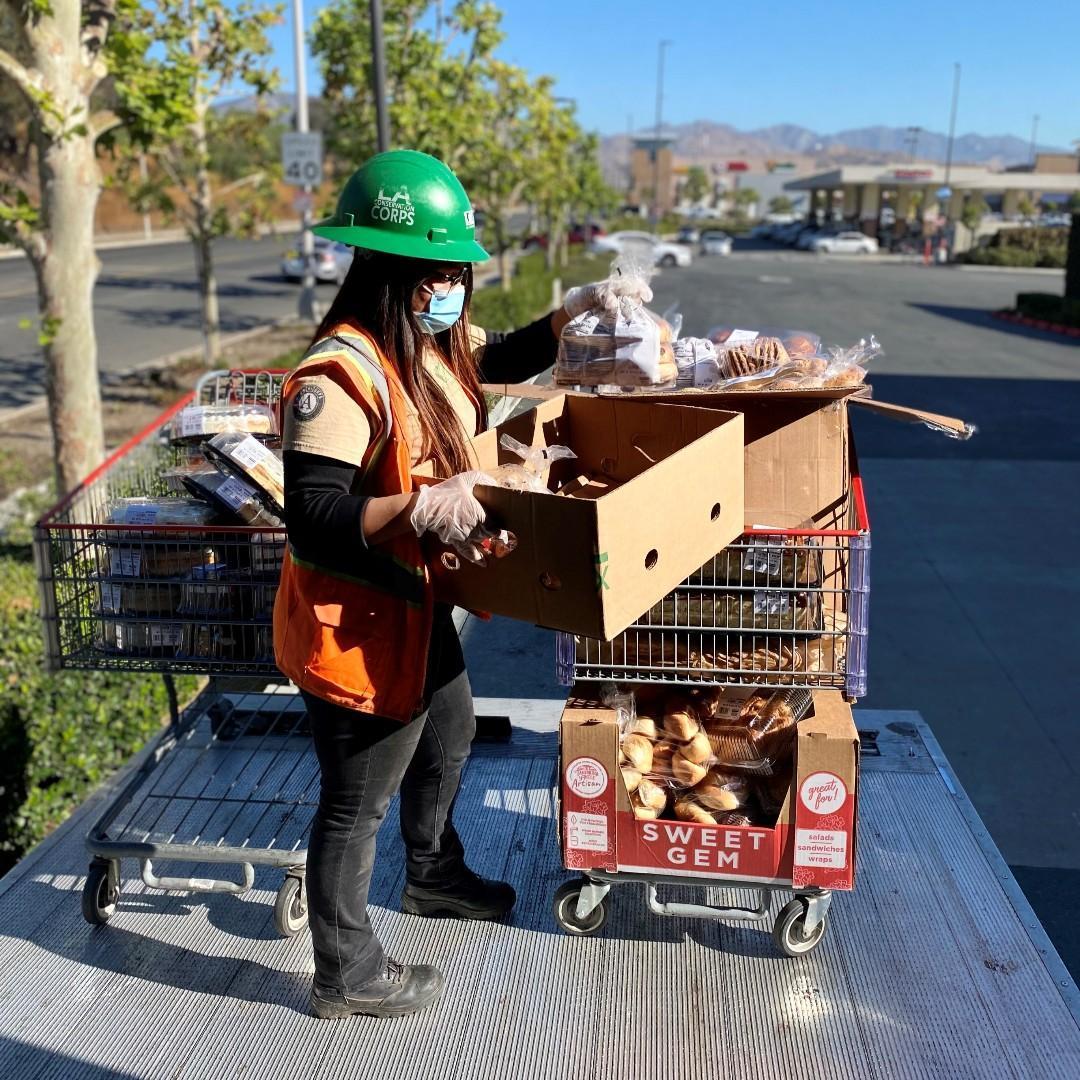 Beyond LACC's collaboration with MEND, the organization addresses food insecurity through a partnership with the Los Angeles Regional Food Bank. Serving alongside fellow Corpsmembers from other local programs – including Conservation Corps of Long Beach and San Gabriel Valley Conservation Corps – LACC members visit food bank locations throughout the city to help operate food distribution events. During a distribution, there could be upwards of 50 Corpsmembers, the majority of whom are from LACC. This support has been essential during a time of increased food insecurity caused by the pandemic.
In addition to sending much needed food into the community, the Corps is also helping launch confident young workers. To other Corpsmembers who are considering joining a program like LACC, Dulce offers this advice.
"I would say go for it…When I first started, I didn't know what I wanted to do and this program really pushed me to do things that I wouldn't have done, such as getting my driver's license. I never really thought I would need it. [And] continuing my education; I didn't think I would even attend a single college class and I actually did. And pursuing a career—pursing something. This program definitely did it for me."