When Joe Taylor received a call about an opportunity to do a Corps project at the San Juan National Historic Site in Puerto Rico, his first thought was, "let me call my wife."
This was a prudent decision. Under the umbrella of Franklin's Promise Coalition, Joe and his wife, Jeanette Taylor, launched Conservation Corps of the Forgotten and Emerald Coasts in the Florida Panhandle. Jeanette is a native of Puerto Rico.
"Well, you go to your expert! You have to," said Joe. "We do asset-based community development. You can't helicopter in and try to fix someone's problems and then leave. You really have to come in and engage the community in the process. That's a priority for us. So, the first thing I would do, of course, is ask a Puerto Rican."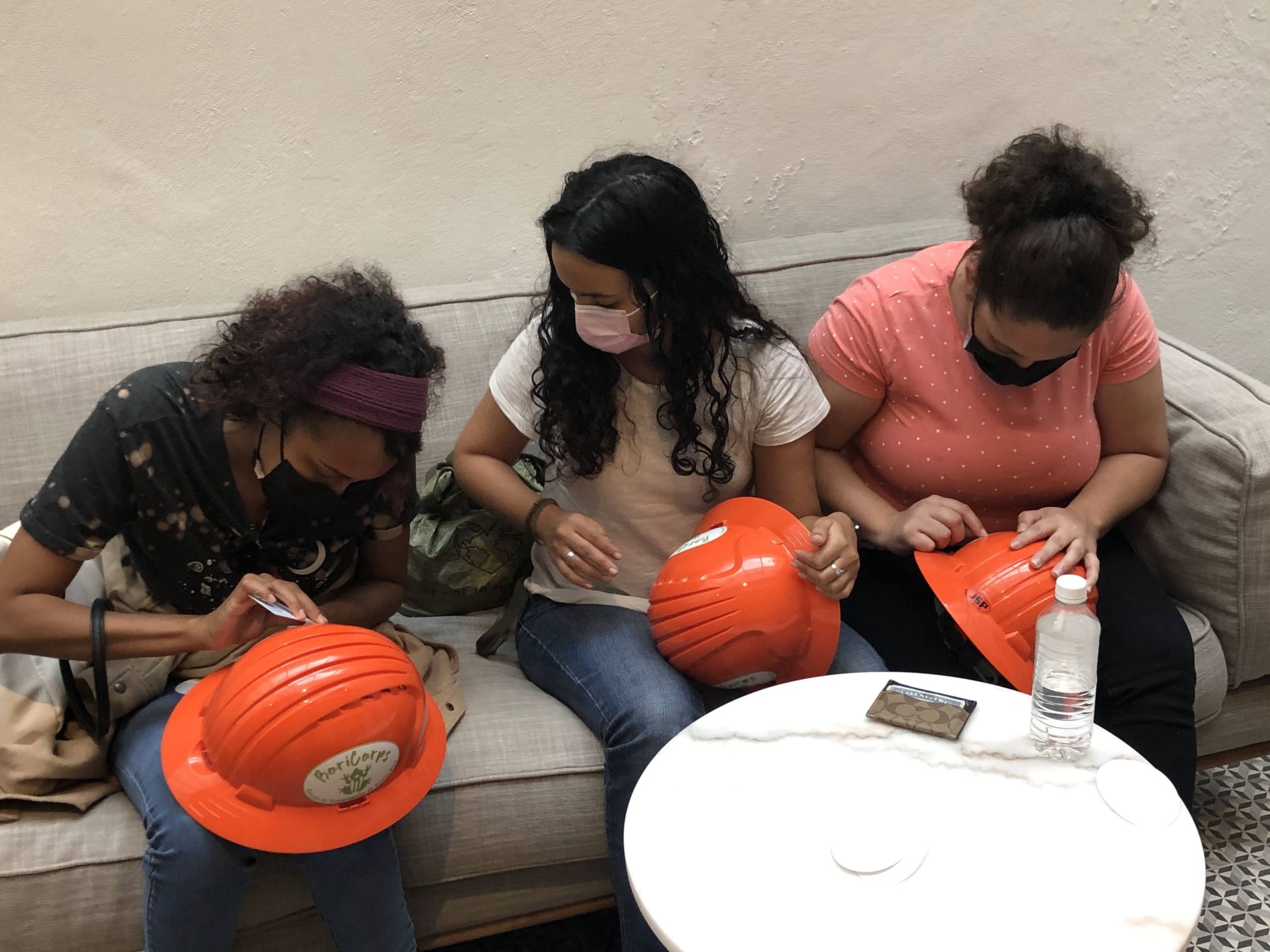 The project opportunity – which was presented by The Corps Network via a request from our partners at the National Park Service – was to help restore the turf at El Morro: a fortress established by the Spanish in the 1500s. While the opportunity was interesting, the Taylors knew they didn't want to start a crew in Puerto Rico for just one project. Hence the creation of BoriCorps: a new program based in Puerto Rico that seeks to engage local young people in conservation service and job training.
"When this opportunity presented itself to give back to the island, immediately I said yes," said Jeanette.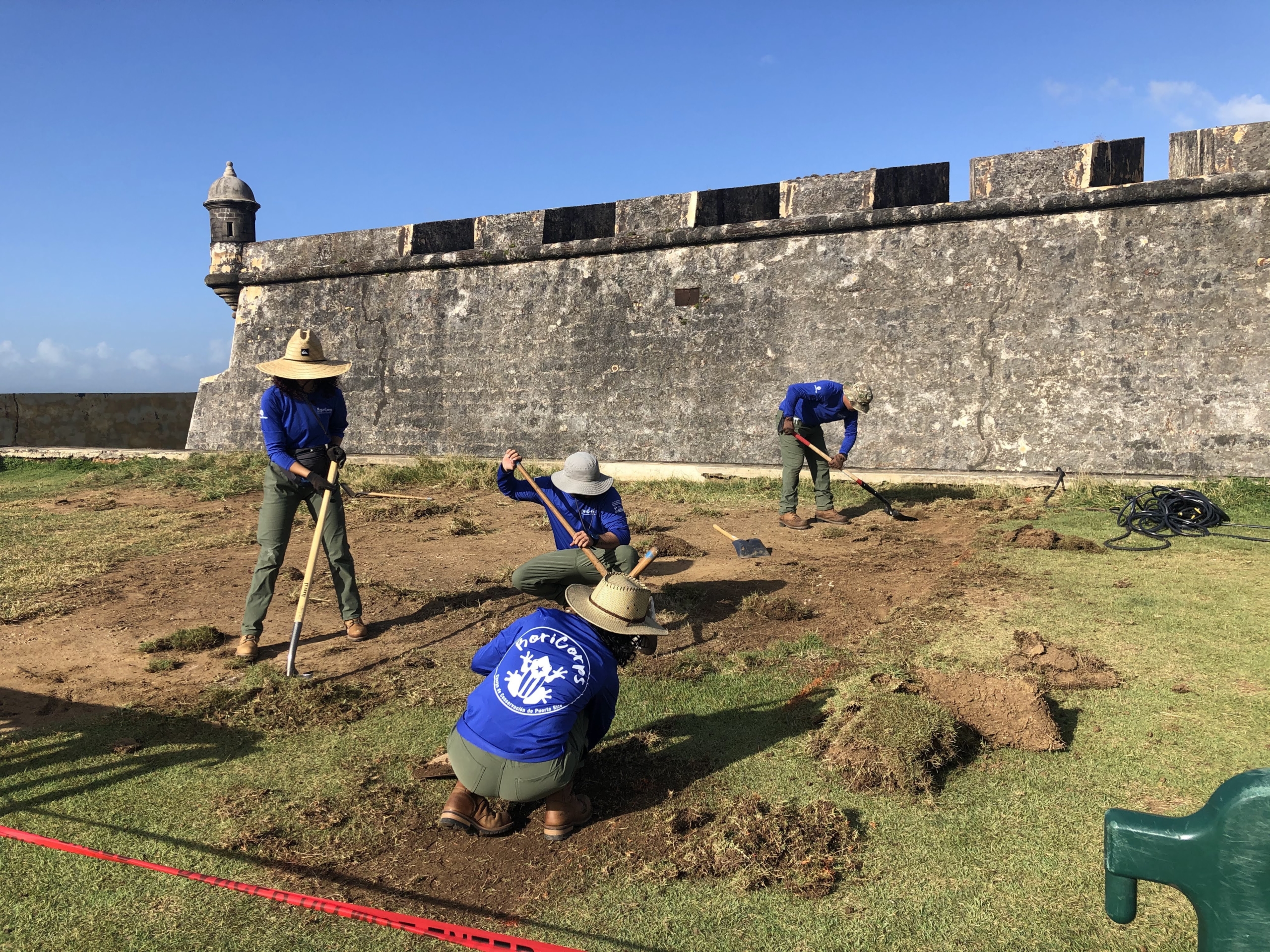 The name BoriCorps is a reflection of the organization's mission to be by and for Puerto Ricans. "Boricua" is a term for someone from Puerto Rico. The word is derived from "Borikén," what the island was called by the Taíno, the Indigenous inhabitants of Puerto Rico. The logo for the program is a coquí, a beloved tree frog that is native to Puerto Rico.
"For us to explain what Boricua means, it's just the essence of Puerto Rico," said Génesis Torres Resto, a BoriCorps Crew Leader. "We take pride in our heritage and our roots. We have lots of different races in our veins. Boricua means our culture and everything we do."
While Franklin's Promise Coalition will work in partnership with BoriCorps and support the program for as long as necessary, the Taylors' goal is that BoriCorps will be operated by local young people within the next three to five years.
---
The Corpsmembers and Crew Leaders
BoriCorps programming officially started in October 2021. The interview process was challenging considering the overwhelming response.
"One of the things that immediately stood out to me is that most of the young people that applied were either in college or had finished and had degrees," said Jeanette. "These young people are very highly educated and have very diverse backgrounds. We had folks with biology backgrounds, archaeology, marine biology, history…as I started getting to know the Corpsmembers, it was clear a lot of them – even with this education – were underemployed."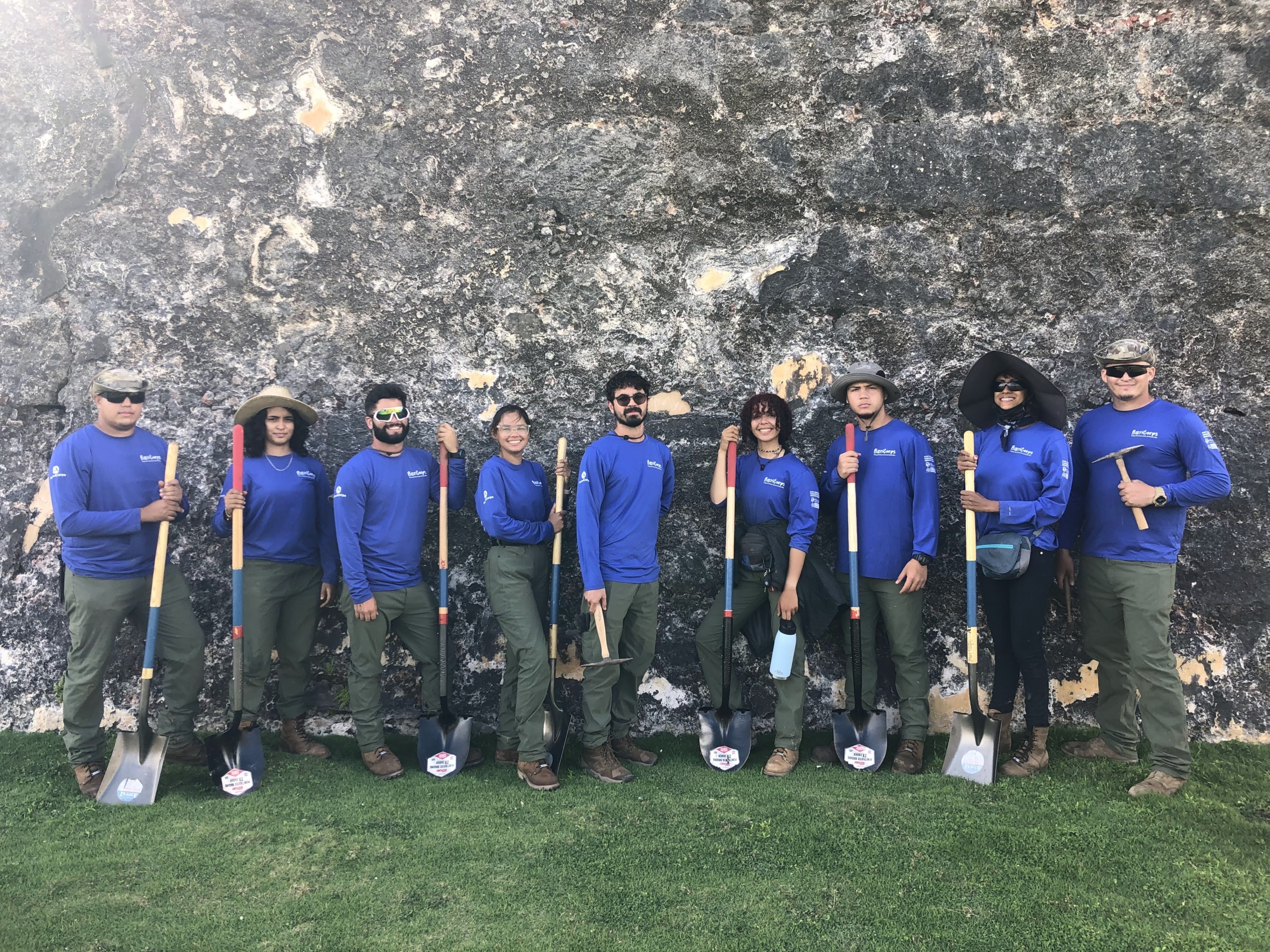 Génesis Torres Resto and her fellow Crew Leader, Karen Herrera Valencia, are examples of this. Génesis studied environmental science at the University of Puerto Rico, Río Piedras Campus and is serving in the National Guard; Karen studied archaeology at the University of Puerto Rico, Río Piedras Campus.
A main goal of BoriCorps is to help address the lack of jobs and internships for young people on the island. The program also provides compensation that is above average for entry-level positions: the minimum wage in Puerto Rico only recently increased to $8.50/hour. The poverty rate in Puerto Rico is over 43 percent, far higher than the 2020 overall U.S. poverty rate of 11.4 percent. All the BoriCorps Corpsmembers and Crew Leaders are part of The Corps Network's AmeriCorps Opportunity Youth Service Initiative: a program designed to provide education and conservation work experience to young people facing barriers to work and school.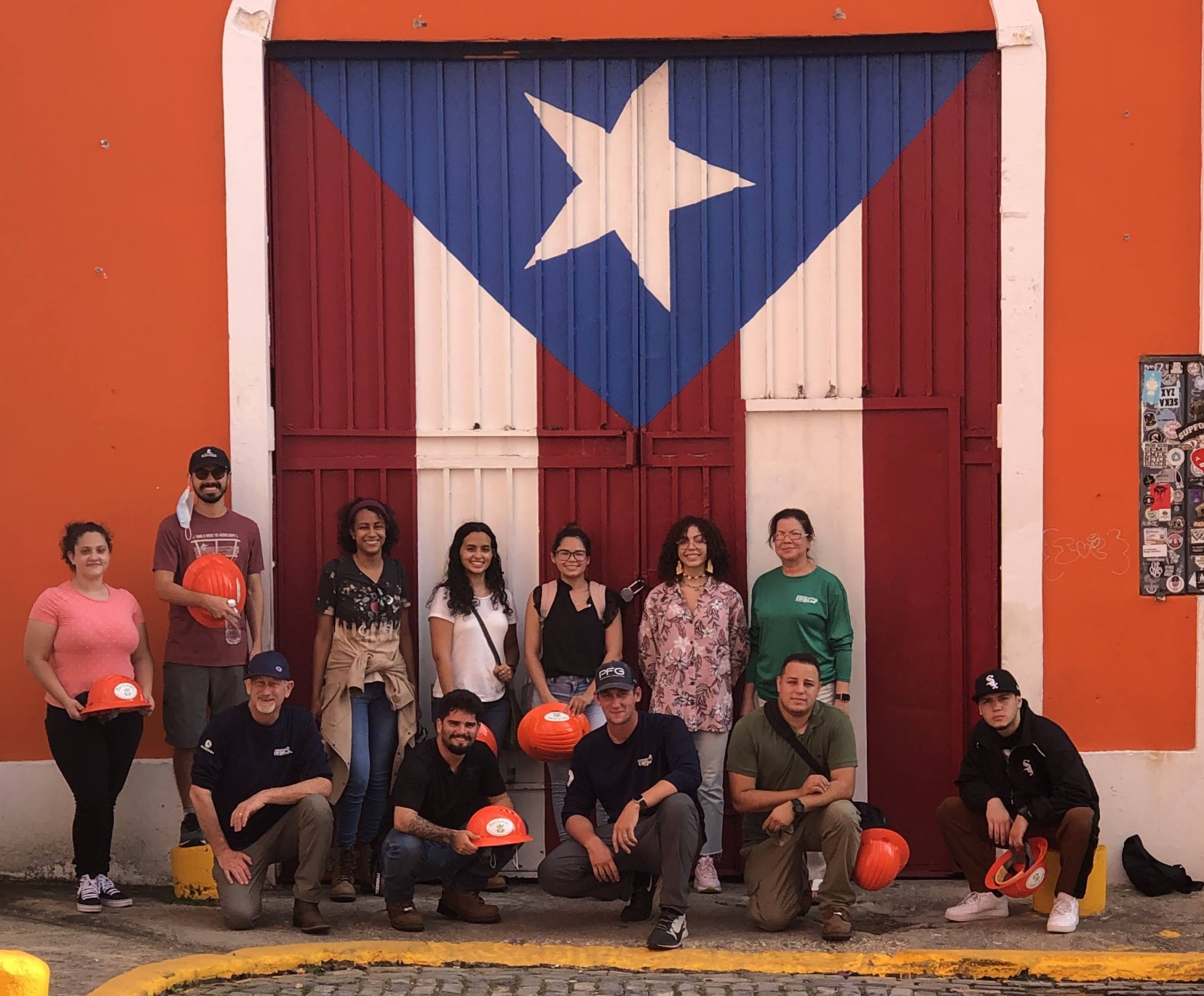 "We have a lot of opportunities to study, but we don't have a lot of opportunities to work," said Génesis. "A young person goes to study for four years and when they look for a job related to that study, it's a hassle because you don't have experience. Either you work and not have the education, or you study and then you're reprimanded for not having the experience. That's why we are so excited about this opportunity."
For this initial cohort, the Taylors see great possibility.
"This first group of 10 showed us there is a lot of potential to grow the program by empowering these folks because they will take it forward," said Joe. "They're very passionate about their island and these issues. While we will dig deeper in future cohorts with young people who have more limited resources and more limited education and opportunities, it was, I think, a smart choice to have these folks in the first cohort."
---
The Work and Training
While BoriCorps plans to engage additional partners and start new projects in future cohorts, this initial crew is primarily focused on the turf restoration at El Morro. The site includes The Esplanade – a grassy expanse of more than 20 acres, similar in concept to the National Mall in Washington, DC. The area is a popular recreation destination. The site has suffered over the years from erosion, wear, and weeds.
Because El Morro is part of a national historic site, there are strict protocols around this project. The crew can only dig down two inches and cannot use heavy equipment. Even still, the crew has found bits of pottery and other artifacts that they have helped inventory with the National Park Service.
While El Morro tells a complicated history of colonization and conflict, serving there is a point of pride for the BoriCorps members.
"Colonization is something that permeates every aspect of our lives as Puerto Ricans. El Morro itself is a monument to the Spanish colonial period," said Karen. "We understand the importance of repatriation of cultural resources, not just for Puerto Rico, but it's a movement that's been going on for other cultures…(El Morro) is not owned by the Puerto Rican people, but Puerto Ricans have taken this space – this symbol of colonization – and made it our own, made it our pride. People go with their families and fly kites, have picnics. We took this space that was for war, and made something for recreation, something that has purpose."
A main reason the park chose to partner with a Corps on this project was to limit disruption for visitors. The BoriCorps members serve on one small section at a time. When visitors come by, the crew enjoys interacting and informing the public about the restoration process and how to help maintain the site. While the crew can't use heavy equipment, they are efficient and well-trained. They are ahead of schedule and, as Génesis noted, better informed than the Civilian Conservation Corps (CCC) crews that served on this site during the Great Depression.
"Technically we are having it easier since we have tools and technology they didn't have access to…We're hoping to transcend things the CCC did in the '30s and hoping to make it as historically true as we can," said Génesis. "We're really proud of leaving a footprint behind the CCC and bettering the Esplanade and doing it with so much love and care."
While the work can be physically demanding, it has its benefits.
"The thing I like most about our work is we're always on our feet. And we're always seeing the changes that we're creating – fast. I can go on the weekend with my family and tell them, 'I did this.'" said Génesis.
"Also the view! We are working along the sea. Everything is really pretty. In the morning we see the sunrise. Just the whole space is so important for us culturally and everyone is really motivated," said Karen.
All the Crew Leaders and Corpsmembers completed FEMA Community Emergency Response Team (CERT) training. They've been trained in GIS, learned how to safely operate various tools, and completed OSHA trainings and courses in CPR and first aid. Additionally, the crew spent time with National Park Service staff to learn about the history and significance of the site.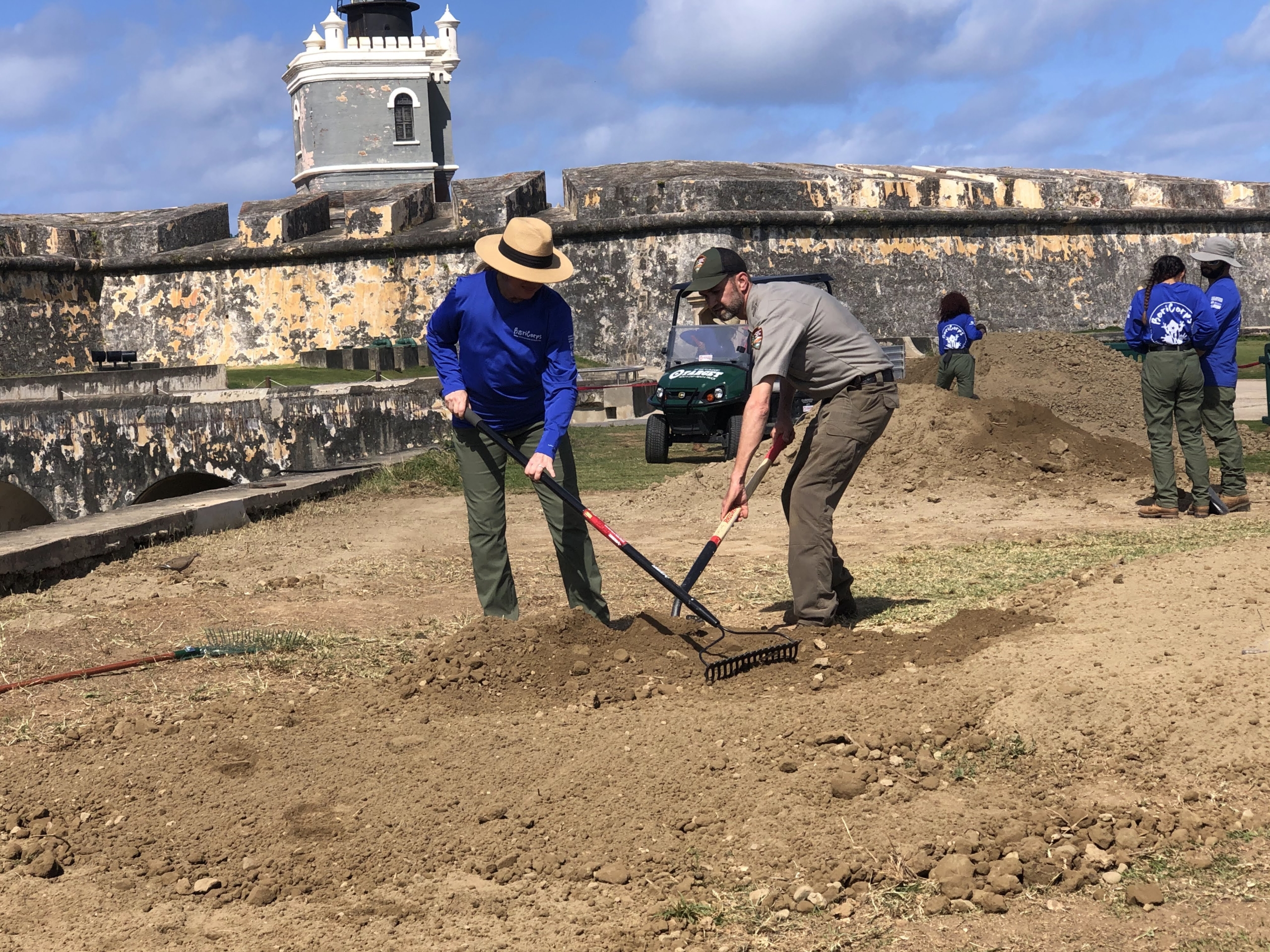 Franklin's Promise hopes this new venture will also open educational opportunities for their Florida-based programs. Before BoriCorps launched, a crew from Conservation Corps of the Forgotten and Emerald Coasts came to the island in August 2021 for a service-learning trip. The crew enjoyed serving on trails built by the CCC at El Yunque National Forest, but the whole experience was truly eye-opening for many of the Corpsmembers. The Taylors hope to develop an exchange program between BoriCorps and the Florida programs.
For Karen and Génesis, however, their long-term goals are here in Puerto Rico. They see programs like BoriCorps as a path for building an economically and environmentally sustainable green career sector on the island.
"I hope we can stay on the island," said Karen. "Some of us study and then leave to work because the wages here aren't as good. We hope that conservation is an opportunity that young people can see as work for the long run that helps us stay on the island and improve the island for us and for our future."