Thrive: The Power of Community
Thank you to everyone who joined us in 2020
for our 35th Annual National Conference
#CorpsWork     |     @TheCorpsNetwork
February 9 – 12     |     Washington, DC
About the 2020 Conference
Follow-Up
Videos, Photos & More
Thank you to our Sponsors
Congratulations to the 2020 Awardees
---
About our 2020 National Conference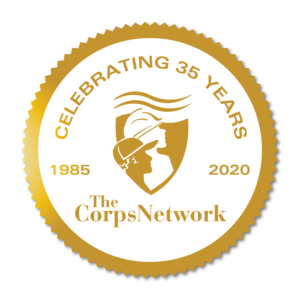 Thrive: The Power of Community
DATE: February 9 – 12, 2020
LOCATION: Washington, DC – Washington Marriott at Metro Center
We celebrated the importance of community at The Corps Network's 35th Annual National Conference. America's Service and Conservation Corps support many kinds of communities. There is a sense of community among the young people we engage; within the towns and cities we serve; and throughout the lands and waters we maintain and improve. Healthy communities – whether represented through the bonds between crew members or through the innumerable interactions within an ecosystem – are essential to our health as people and organizations. At "Thrive," we examined the power our communities possess; the global and local threats our communities face; and ways we can engage young adults authentically to sustain community health through service.
---
Follow-Up from 2020 Conference
Session Materials
PowerPoints, notes, handouts and other materials from the Conference are here.
Access folder
Speakers
Learn about our 2020 Conference plenary speakers.
Click here
Workshops & Plenary Information
Click here
---
Videos, Photos & More
Conference Theme Video: YouTube   |   Twitter   |   Facebook
Project of the Year Videos
New Jersey Youth Corps of Phillipsburg
Northwest Youth Corps
Urban Corps of the Inland Empire
YouthWork

Adult Community Experience Corps
YouTube  |  Twitter  |  Facebook
Corpsmember of the Year Speeches
Plenary Sessions
Photos
View a comprehensive album on Flickr
View and share a select album on Facebook
Other Materials
Download PowerPoints, handouts and other materials from workshops – Access on Dropbox
Conference program – Click here
---
Thank you to our 2020 Conference Sponsors
TITLE SPONSOR

SPECIAL THANKS

GOLD SPONSOR

SILVER SPONSOR

BRONZE SPONSOR

SUPPORTER
---
Congratulations to the 2020 Awardees
The Corps Network National Conference offers an opportunity to celebrate extraordinary people and programs in the Corps community. Questions about awards can be directed to Hannah Traverse, [email protected].
2020 Corpsmember of the Year
Celebrating extraordinary young adults from America's Service and Conservation Corps
Learn more    |   Read about past awardees  | Read about our 2020 nominees
Congratulations to our 2020 Corpsmember of the Year Awardees
Luis Cabrales – Student Conservation Association (IL)
Rosy Chavez – Montana Conservation Corps (MT)
Alexa Hansen – American YouthWorks (TX)
Bex Love – Vermont Youth Conservation Corps (VT)
Ryan Shelton – Conservation Corps of Long Beach (CA)
Harley Tijerina – California Conservation Corps (CA)
2020 Project of the Year
Celebrating project innovation and achievement in the Corps world
Learn more    |   Read about past awardees  | Read about our 2020 nominees
Congratulations to our 2020 Project of the Year Awardees
NJYC – Phillipsburg – Plan "Bee"
Northwest Youth Corps – Rainbow Conservation Crew
Urban Conservation Corps – Los Naturalistas
YouthWork – Adult Community Experience Corps
21CSC Champion of the Year, 2020
Celebrating the partners who help make Service and Conservation Corps successful
Learn more |   Read about past awardees 
Congratulations to our 21CSC Champion of the Year for 2020
Garry Cantley – Bureau of Indian Affairs
Kathy Mick – U.S. Forest Service
Patrick Schulze – U.S. Fish and Wildlife Service
Kim Wren – Florida Department of Environmental Protection
Jim Ziolkowski – National Park Service