In 2017, with support from a three-year grant from the W.K. Kellogg Foundation (WKKF), The Corps Network launched our Moving Forward Initiative (MFI): an effort to advance equity, diversity and inclusion across the Service and Conservation Corps community. As announced in August of this year, we are honored to receive a subsequent grant from WKKF to support the continuation and expansion of MFI.
We are excited about how this initiative has evolved. Read about what we've learned and what we plan to do to continue supporting justice, education and empowerment across the Corps world.
---
Where We've Been
At the start of this initiative, our vision was to develop a career guide and other resources to support young people of color in their journey from their Corps experience to jobs in conservation and resource management. However, we quickly realized the need to broaden this vision: our efforts shifted to focus on providing Corps and Corpsmembers foundational knowledge and a framework for racial equity and healing.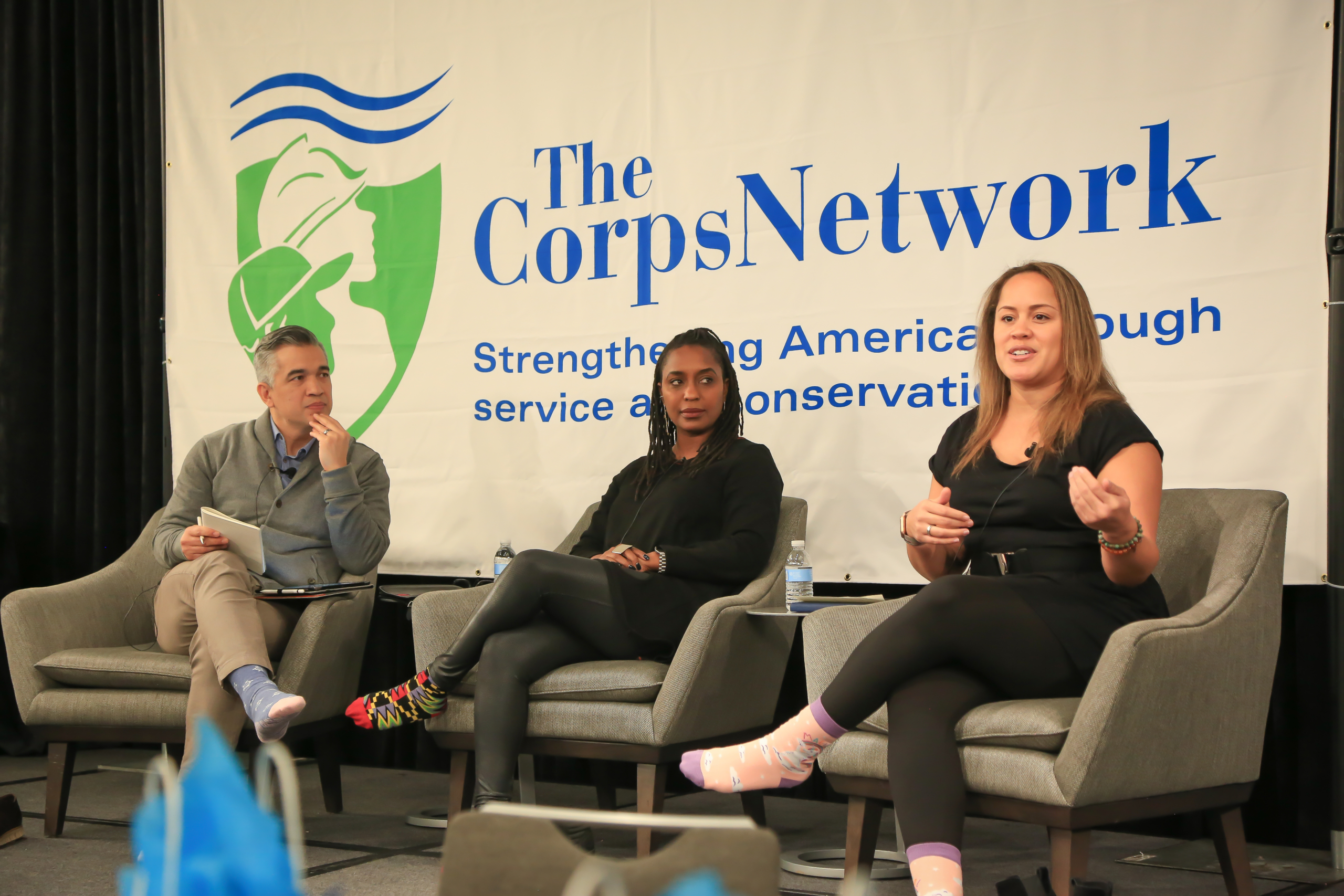 MFI plenary session at The Corps Network 2020 National Conference. Left to Right: Marcelo Bonta, Angelou Ezeilo, Chanté Coleman.
Workshops and Trainings
The Corps Network assembled a cohort of ten Corps across the country that represent a range of program models and Corpsmembers from many different racial, ethnic and socioeconomic backgrounds. They are as follows:
Working with the People's Institute for Survival and Beyond (PISAB), we engaged directors and several staff from each of these programs in PISAB's intensive, multi-day "Undoing Racism" workshop. A condensed version of this workshop – as well as numerous other workshops, lectures, and film screenings focused on equity, diversity and inclusion – have been offered every year at The Corps Network's national conference, providing valuable learning opportunities to many more people in the Corps community. In addition, throughout the COVID-19 pandemic, we have hosted several MFI-focused Town Hall sessions for our membership.
Blogs and Resource Library
Since the start of MFI, we have published original blogs exploring a range of topics, including the inequitable history of the Civilian Conservation Corps, the history of Black farmers in America, the development of the environmental justice movement, gun violence, and inequities in education. In addition, we continue to add new items to our MFI Resource Library, which contains research, reports, books, and other materials to support the Corps community in their work to deepen their awareness and advance equity, diversity and inclusion.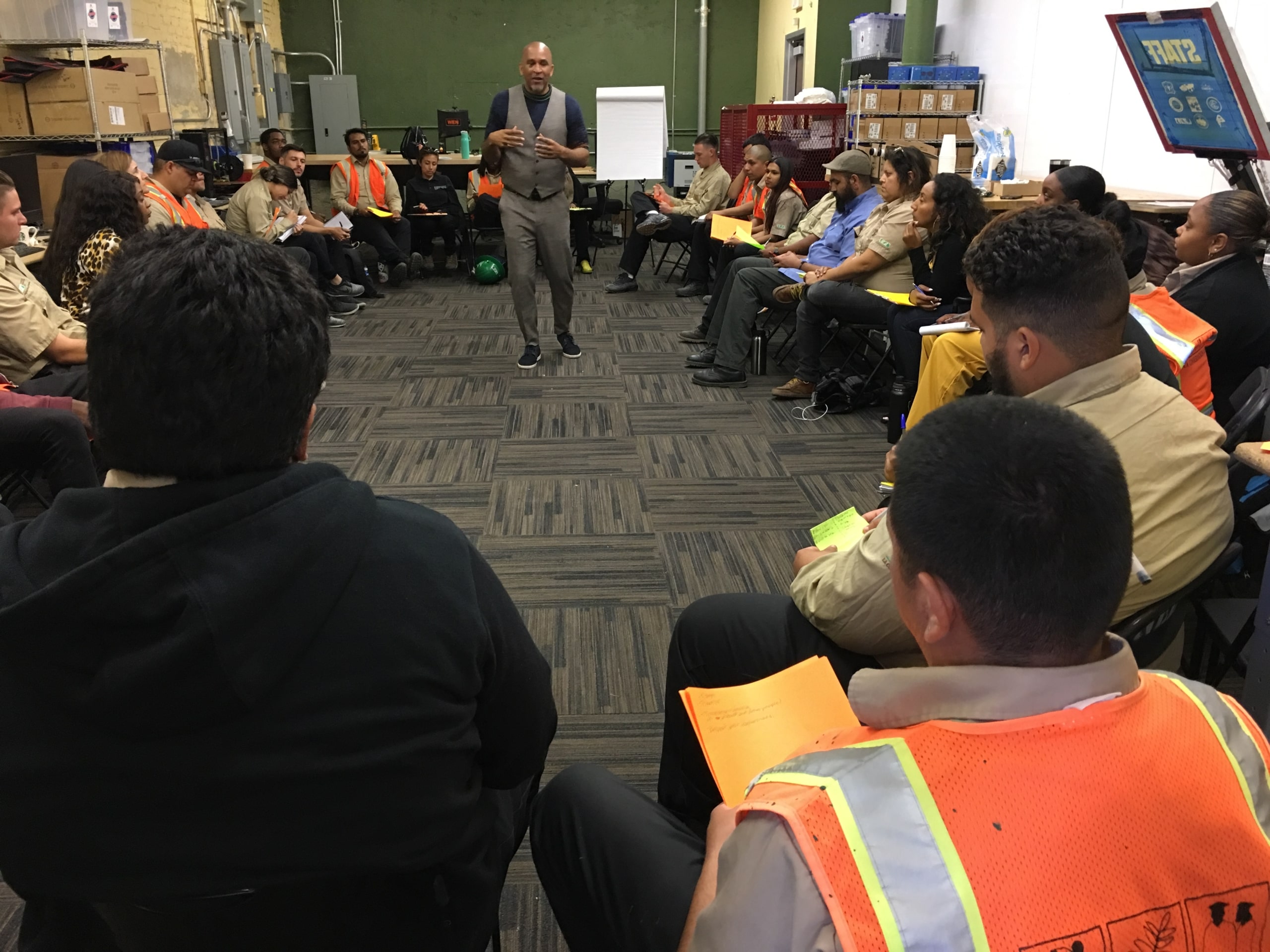 Corpsmember Liberation and Leadership workshop at Los Angeles Conservation Corps.
Corpsmember Liberation and Leadership
Working with consultants Mahdi Davenport and Juanita Brown, The Corps Network developed Corpsmember Liberation and Leadership: an interactive workshop, designed for young people of color, that explores the impact of systemic and institutional oppression on the individual. Participants examine how they have absorbed negative messages, which in turn can manifest as counterproductive thoughts and habits. Through this workshop, young people of color learn tools to identify these patterns, interrupt them, and replace them with new life-giving patterns. This training was offered to Corpsmembers at six Corps from the cohort of ten (Civicorps, Civic Works, Los Angeles Conservation Corps, Mile High Youth Corps, Montana Conservation Corps, PowerCorpsPHL). Going forward, there are plans to bring this workshop to more Corps.
Silence is Not an Option
In response to the national unrest following the killings of George Floyd and Breonna Taylor, The Corps Network started a five-part virtual seminar series facilitated by our staff. These groups are designed to provide space for our staff and Corps staff across the country to have honest discussions about race in America. Before each discussion, seminar participants receive a collection of readings, videos, and other materials to review. These materials help guide the conversations. After completing this first series of seminars, we intend to expand this opportunity to a new group of participants
---
Where We're Going
"Sending the Right Signal" – Building a Foundation
The Corps Network will work with Mahdi Davenport and the team at Soul Focused Group to engage up to 40 staff members and Corpsmembers from each of the 10 MFI Corps in a workshop – Sending the Right Signal – that looks beyond implicit bias and aims to provide a deeper understanding of race and racism. This workshop will serve as a precursor to Corpsmember and Liberation and Leadership, helping Corps staff and Corpsmembers develop foundational language and historical knowledge before diving deeper to address the effects of racism.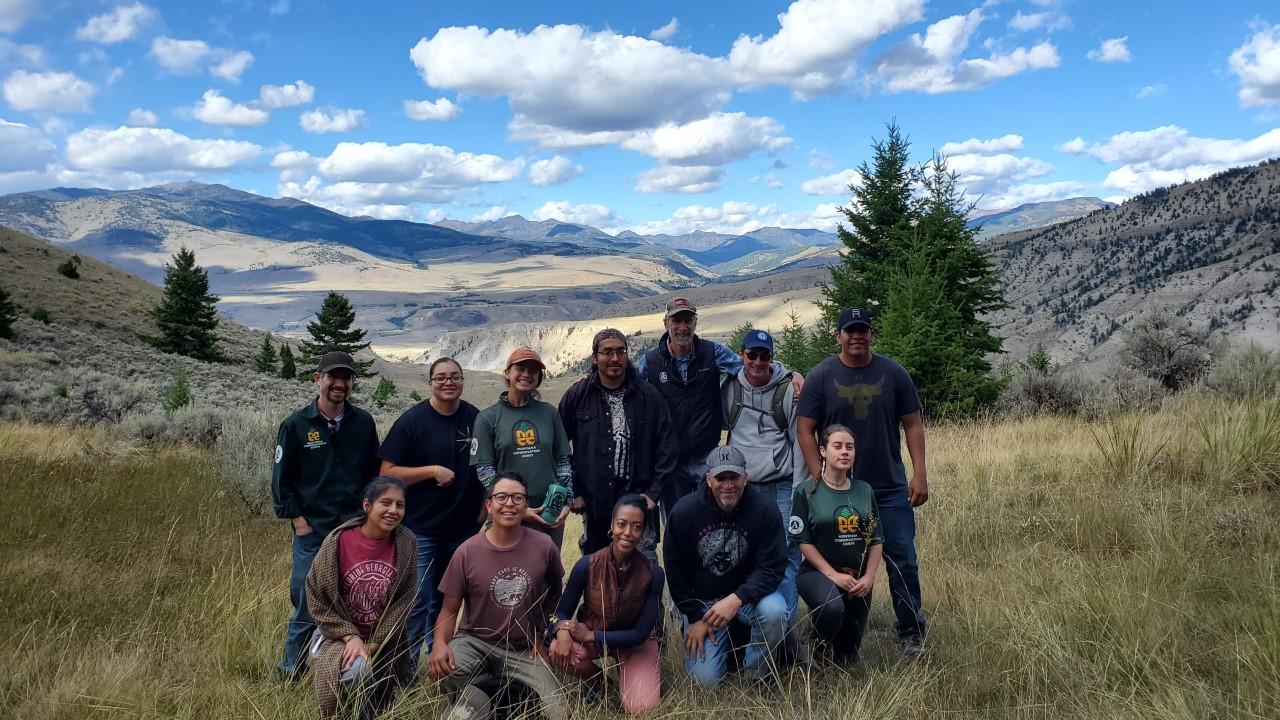 Corpsmember Liberation and Leadership workshop with Montana Conservation Corps.
Expanding Corpsmember Liberation and Leadership
Several staff members from the Corps that underwent Corpsmember Liberation and Leadership are participating in a train-the-trainer program. Mahdi Davenport is teaching them the Corpsmember Liberation and Leadership framework so they can assist in facilitating the workshop for the remaining four Corps in the MFI cohort. The goal is for all 10 Corps to eventually have staff members who are able to lead Corpsmember Liberation and Leadership workshops with new groups of Corpsmembers.
Learning Community
The Corps Network aims to develop a learning community among the 10 MFI Corps, creating opportunities for them to virtually come together to share best practices and lessons learned. We hope to work with the Corps to develop various activities to complement and build upon Corpsmember Liberation and Leadership so there is continuous learning and reinforcement of the messages and activities introduced in the Corpsmember Liberation and Leadership workshop.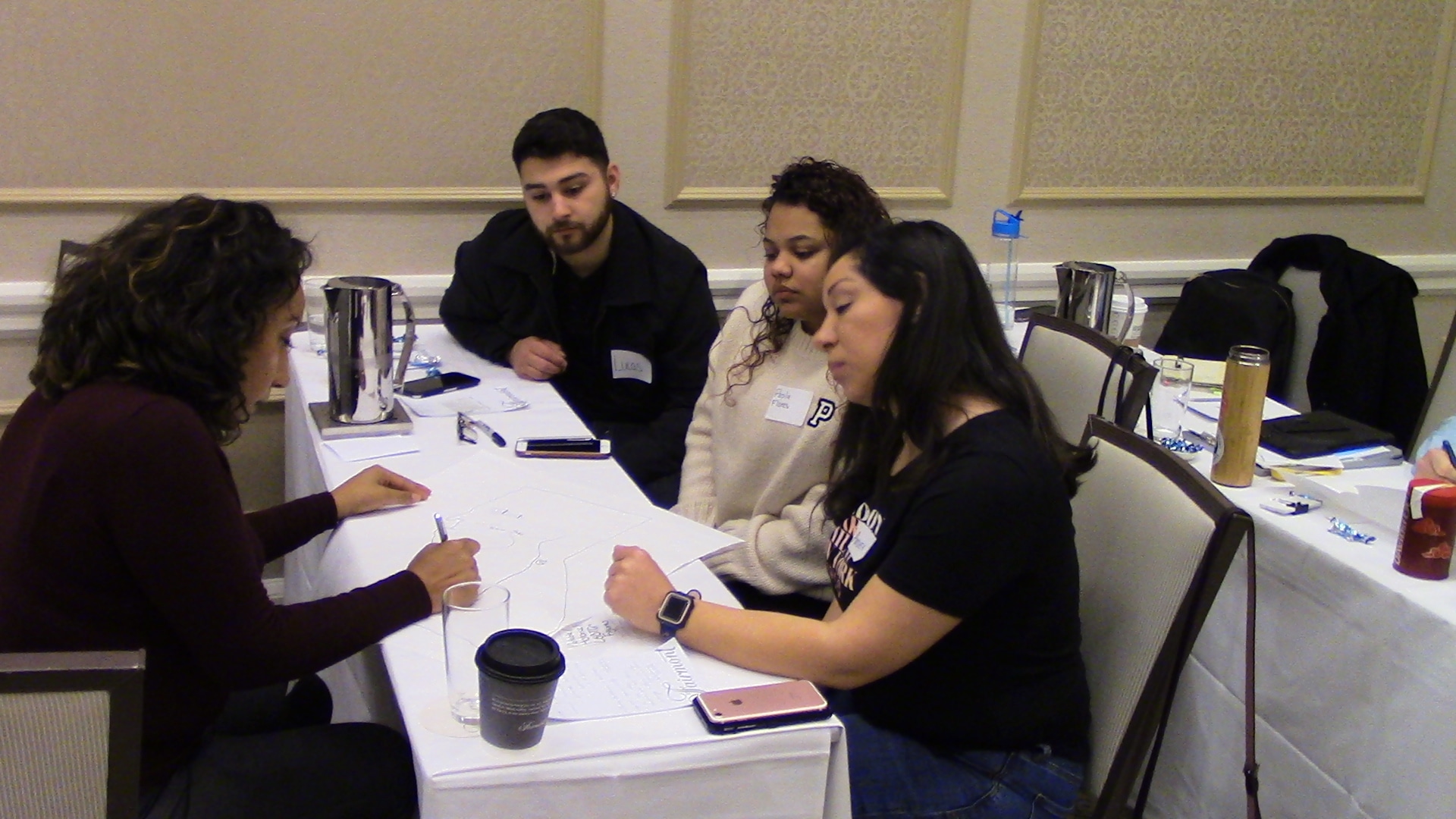 MFI workshop at The Corps Network National Conference.
Core Skills Mastery
The Corps Network aims to engage additional Corps in Core Skills Mastery (CSM), a competency-based math and literacy program that seeks to address negative feelings some Corpsmembers may have about their abilities. Similar to Corpsmember Liberation and Leadership, CSM encourages a growth mindset and is designed to help participants harness their power and purpose not just for career success, but for the development of a whole, healthy person. CSM has been implemented successfully at Civic Works.
Speaking Authentically: Express Yourself
It is important to give young people a platform to speak their truths. Consultant Anitra Patrick will work with the 10 MFI Corps to support Corpsmembers in harnessing the power of their voices. After undergoing Corpsmember Liberation and Leadership, we aim to support Corps in using social media, their websites, and other platforms to give Corpsmembers a space to express their thoughts and experiences.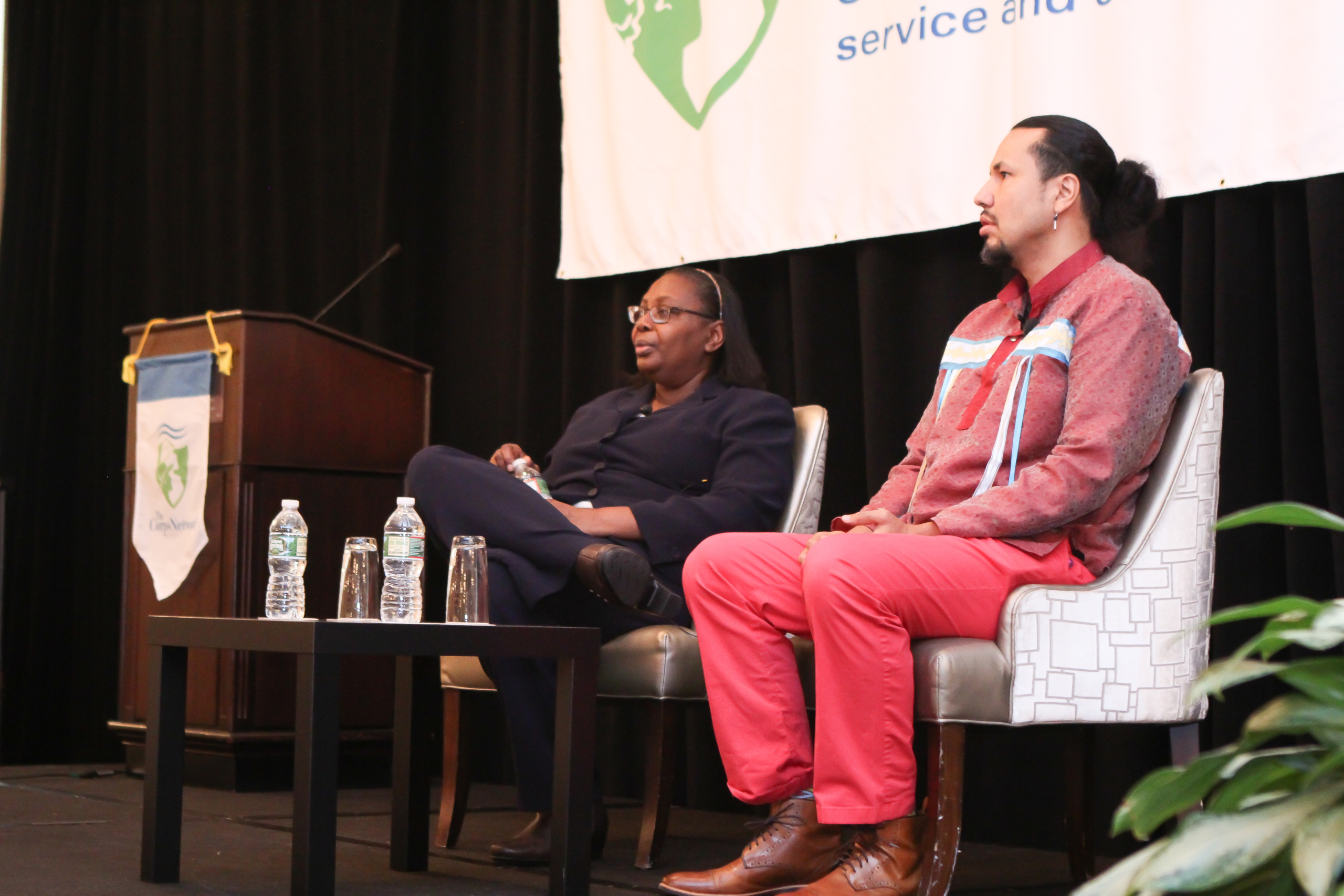 MFI plenary session at The Corps Network 2018 National Conference. Dr. Dorceta Taylor and Gyasi Ross.
Supporting Corps in Furthering Justice, Equity, Diversity and Inclusion Work
Each Corps is at a different place in the journey of advancing equity. We hope to support Corps in developing racial equity plans and furthering their justice, equity, diversity and inclusion work. We hope to foster collaboration among Corps, encouraging them to share and learn from one another as they individually develop organizational racial equity plans.